ROAR: Russia and Iran exchange criticism, but continue cooperation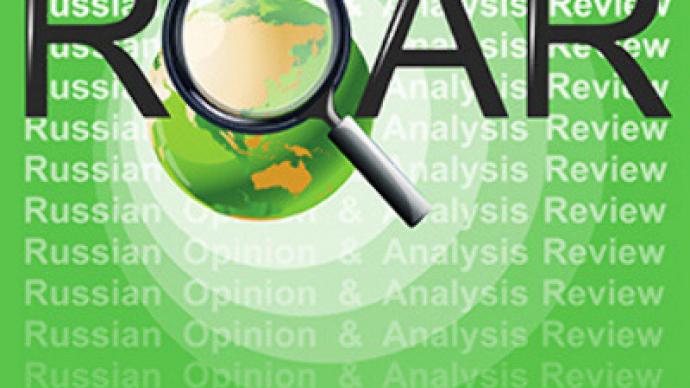 Moscow intends to continue its cooperation with Tehran in the military-technical field, but will strictly adhere to international sanctions regarding Iran's nuclear program.
Military-technical cooperation is continuing, but in keeping with the Russian president's decree on measures to implement the UN Security Council's resolution on sanctions adopted in June. The announcement was made on Tuesday by Ivan Goncharenko, head of the state arms supplier Rosoboronexport's delegation to the Euronaval 2010 exhibition.
Dmitry Medvedev's decree forbids supplies of S-300 air defense missiles to Iran, and other weapons, including tanks, fighter jets, helicopters, ships and missile systems. Supplies of technology related to ballistic missiles capable of delivering nuclear weapons are also forbidden.
Iranian officials have been criticizing Moscow for the move, but cooperation between the two countries has not stopped, including in the area of energy.
On Tuesday, the loading of fuel rod assemblies started at the Bushehr nuclear power plant in Iran. The process is likely to take about a month, a source at Atomstroyexport, the Russian general contractor in the project, told Itar-Tass news agency. Russian and Iranian specialists are working under the control of observers of the International Atomic Energy Agency (IAEA).
Speaking with the IAEA's Director General Yukiya Amano on Tuesday, Russian Foreign Minister Sergey Lavrov said that Moscow fully supports the activity of the International Atomic Energy Agency.
During his first visit to Russia, Amano again called on Iran to fulfill its commitments. He said, however, that Iran had declared the entire amount of nuclear materials it is using for civilian purposes under the Safeguards Agreement with the IAEA, Interfax news agency reported. According to Amano, it takes time for a nuclear plant to begin full-scale operations.

Meanwhile, the media is wondering how the Russian position on the Iranian nuclear program will affect the bilateral relations. Iran's Ambassador to Moscow, Mahmoud Reza Sajjadi, has recognized that serious disagreements exist between the two sides over the nuclear issue.
"Unfortunately, Russia has made a big mistake concerning Iran's nuclear issue because it was influenced by the West's propaganda," he said on Monday, according to ISNA news agency.
The Tehran Times newspaper also quoted the ambassador as saying that Russia "was made to believe that there is no peaceful purpose behind Iran's nuclear program."
He stressed that it was not prudent for Russia to distance itself from Tehran. "Today Iran is helping to prevent the spread of terrorism in the Caucasus region as well as smuggling drugs to Russia," the ambassador was quoted by the paper as saying.
Sajjadi also noted that Russia is interested in reinforcing its relationship with the West to develop its economy.
Later, however, the ambassador told Russia's Nezavisimaya Gazeta daily that Iranian media did not publish his full interview. Speaking about Russia's alleged concerns regarding possible "disintegration into more separate republics" in case the economy does not improve, he said "he had just cited words of some Russian analysts."
"Tehran is trying to blackmail Moscow," the daily said, commenting on the ambassador's statement. His words "are not characteristic of diplomatic ethics," a source in the Russian Foreign Ministry told the paper. The dialogue with Iranian partners "is not going easy," the source went on to say. "Sometimes the [Russian] Foreign Ministry does not pay attention to it, so as not to aggravate the situation."
"We know ourselves that we have serious economic problems," said Aleksey Arbatov, head of the Center for International Security of the Institute of World Economy and International Relations. And Iran itself "is suffering from drugs and terrorism," he told the paper. "I hope it is only rhetoric," he said, adding that Russia is ready to cooperate with Iran and is implementing its commitments on Bushehr.
"The history of Russian-Iranian relations shows that they do not depend on the current political conjuncture," the paper said, citing diplomatic sources. Sajjadi, in his turn, told the daily that these relations "are of great importance and we are trying to develop them in every way."
Meanwhile, US officials said on Wednesday that Moscow's decision not to supply S-300 surface-to-air missile systems to Iran was not "a present" for Washington. Russia itself "is gaining benefits" from the S-300 topic, as well as the new Strategic Arms Reductions Treaty and the Afghan transit agreement, said Phillip Gordon, US Assistant Secretary of State for European and Eurasian Affairs, Interfax reported.
Moscow's decisions on these issues reflect "our common interests," Gordon said in an interview with Gazeta.ru online newspaper.
Sergey Borisov,
Russian Opinion and Analysis Review, RT
You can share this story on social media: