First bill targeting sexual harassment prepared in Russia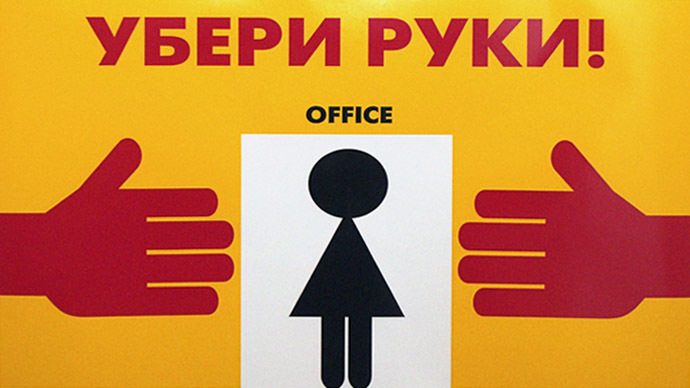 Lawmakers are ready to list sexual harassment as an offence punishable by fines for Russian citizens and deportation for foreigners.
The bill has been prepared by MP Oleg Nilov representing the center-left party Fair Russia. The lawmaker told the Izvestia daily that his main objective was to relieve women of psychological stress caused by sexual harassment on the part of bosses and strangers.
"Even a single verbal insult must carry a punishment. But of course the fact must be proven – the victim must file a report with the police and have witnesses to confirm the claims – in this case the punishment will be inevitable. The bill will make women's life easier," Nilov told the newspaper.
In its current form the draft bill allows sexual harassment and unwanted flirting in open and a concealed form to be punished by fines of between 30,000 and 50,000 roubles ($830 - $1400). Repeat offenses carry fines of between 80,000 and 100,000 roubles ($2,200 – $2,800). Foreigners found guilty of harassment will have to pay the same fines as Russians but also face deportation from the country.
Russian criminal law already has an article against "forcing someone into sexual relations", which carries up to 1 year of forced labor or imprisonment, but it is only applied when the harassment is accompanied with blackmail or damage to property, and when the victim is dependent on the criminal in a material sense or due to work subordination.
Some Russian MPs were not very enthusiastic about Nilov's plans. Mikhail Markelov of the parliamentary majority party United Russia said that the bill was too populist and would be too difficult to enforce."When there is a bill that allows prosecution for just one wrong stare, too many people will start using it to settle their conflicts," the politician said.
The head of the Migrants' Federation Muhammad Amin Madjumder commented that the proposed law can become a tool for evicting unwanted foreigners. "People who are unfriendly towards immigrants will get an opportunity to provoke or falsify the situations that would lead to deportations. The bill also contradicts the international law that orders that persons convicted on the territory of a certain state must serve their punishment within the borders of this same state," the activist said.
You can share this story on social media: