Orthodox Church slams surrogacy as 'mutiny against God', seeks legal ban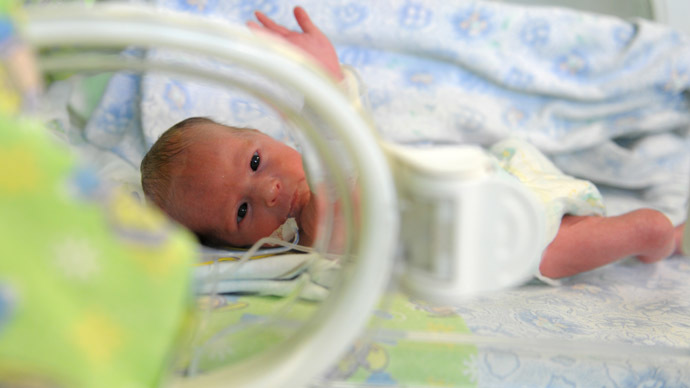 A representative of the Moscow Patriarchy has blasted surrogacy as "mutiny against God" and "happy fascism," restarting the controversy after tabloid reports of a celebrity couple who used a surrogate mother to have children.
The comment from the head of the Patriarchy Commission for Family Motherhood and Childhood, Dmitry Smirnov, came after Russian mass media reported that in September 64-year-old Russian pop star Alla Pugachova and her 37-year-old husband Maksim Galkin had two children born through surrogate motherhood.
"I would ban this, of course. We can see that a bad example is contagious," the senior church representative was quoted as saying by Interfax. "This is mutiny against God, this is very happy fascism with a contract, the money and confiscation of a child."
The cleric also reminded that the Russian Orthodox Church supported a complete ban on surrogate motherhood in Russia and called on the State Duma to initiate such a move.
The official concept of the Russian Orthodox Church's social policy calls surrogate motherhood – the agreement in which a woman carries and delivers a child for another person or couple – "unnatural and immoral," adding that it should not be allowed even in cases where there is no monetary motivation.
A well-known church-backed politician Vitaly Milonov of the St. Petersburg City legislature also condemned Pugacheva and Galkin for using surrogacy.
"I would not congratulate this family with the fact that they had bought themselves a child, that they have enough money. With the fact that they could use some woman as an incubator to carry their child," Milonov told reporters.
"This is an immoral thing to do in the country that has tens of thousands of orphans waiting to be adopted. Making oneself a neat and clean baby is something akin to buying a new model Ferrari," said the MP who previously made himself a name as the main sponsor of the law banning the promotion of non-traditional sex relations to minors, known in the mass media as the 'gay propaganda ban'.
Surrogacy is legal in Russia and according to state news agency RIA Novosti about 500 children are born in the country through this procedure every year. Surrogate mothers must be between 20 and 35 years of age, have at least one child of their own and pass a medical test.  The law guarantees the secrecy to both parties. Prices for the services vary greatly, but it is generally considered that in Russia they are up to one tenth than in Europe and America.
Some other nations, such as Ukraine, South Africa and several states in the USA also allow commercial surrogacy. The UK, Australia, Canada, Israel and several other nations only allow non-commercial surrogacy. Countries like Ireland and Greece have no laws on the subject, leaving it in a gray area.
Surrogate motherhood is legally banned in Austria, Germany, France, Norway and Sweden and in several US states, such as Arizona and Michigan.

You can share this story on social media: