Russia outraged by desecration of monument to Soviet soldiers in Bulgaria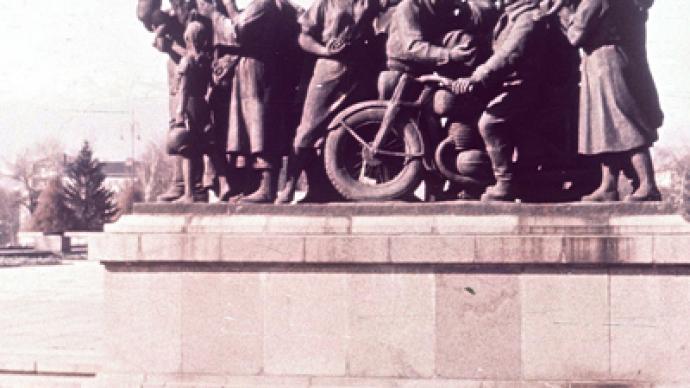 Moscow has urged Bulgarian authorities to take measures against vandals repeatedly desecrating the Monument to the Soviet Army in Sofia.
­Russia wants the authorities in Bulgaria to stop "ceaseless acts of vandalism" against the monument, the Foreign Ministry said in a comment on Wednesday. Another incident regarding the monument in the Bulgarian capital occurred on June 17, when vandals desecrated the bas-relief with paint. Any attempts to desecrate the memory of Russian soldiers who fell for the sake of liberating Bulgaria and Europe from fascism should be stopped and those guilty should be punished, the ministry said. On Wednesday, Russia is marking the 70th anniversary of the beginning of the Great Patriotic War against Nazi Germany, a term used to describe the eastern front in Russia and the former Soviet republics. On the eve of this anniversary, graffiti was cleaned from the monument in Sofia overnight by Bulgarian public organizations who stepped up to help. The action was initiated by the Bulgarian-Russian forum, which allocated about 500 euros for the restoration work. Several public organizations, creative unions and Bulgarian politicians said they were deeply incensed by the desecration. The attempts to justify it as "a child's joke" is an affront to the memory of the millions of Soviet people who fought against the Nazis, their statement said.  Although Bulgaria's officials were not in a hurry to clean the monument, Deputy Minister of Culture Todor Chobanov described the defilement as "an act of hooliganism for which no tolerant attitude is possible anywhere in the world." The monument, which was built in Sofia in 1954, depicts a Soviet soldier, a Bulgarian worker and a peasant woman. It was intended to symbolize the friendship between the peoples of Bulgaria and the Soviet Union.Recently, however, the future of the monument has become the subject of heated discussions in Bulgaria. The Russian Foreign Ministry recalled that certain political forces are trying to remove the monument. There are two camps in the city, those in favor and those against moving the monument, Sofia's Mayor Jordanka Fandykova said. But she stressed that the decision on whether or not to move the monument must be made only with public consensus. After Bulgaria became a NATO member state in 2004, a civil committee was set up demanding that it be dismantled. The supporters of the idea see the monument as "a challenge to the memory of the tens of thousands of victims of communist terror." Back in 1993, the city council actually voted for the dismantling of the Soviet-era monument, but since then no Sofia mayor has dared to implement the controversial decision.