Rewriting and demolishing history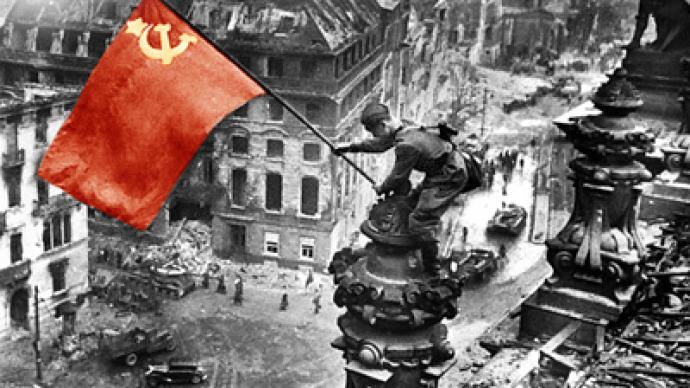 Russian politician Darya Mitina believes the significance of the memorial in Moscow far surpasses its symbolic meaning – that of securing the long-lasting memory of the USSR's role in the victory over Hitler in World War II.
A monument marking victory over the Nazis was unveiled by Prime Minster Vladimir Putin in Moscow's Victory Park on Tuesday. The ceremony was attended by representatives of the Georgian community and Georgian political opposition. The memorial is a response to last year's demolition of the World War II victory memorial in the Georgian city of Kutaisi, which was sanctioned by the authorities. The new memorial has a sculpture of a Russian soldier, Mikhail Yegorov, and a Georgian soldier, Meliton Kantaria, who together planted a victory banner on top of Berlin's Reichstag building in May 1945. They are placed in front of a scaled-down copy of the victory monument which was torn down in Kutaisi. Darya Mitina is chair of the Russian Communist Union of Youth, and a member of the Left Front alliance. In 1995-1999 she served as a State Duma deputy.She believes the significance of the memorial in Moscow far surpasses its symbolic meaning – that of securing the long-lasting memory of the USSR's role in the victory over Hitler in World War II.RT: What do you think is the meaning of such an action – I mean the re-creation and relocation of the demolished monument?Darya Mitina: For all I know, this is the first event of its kind in Russia. Mikhail Saakashvili had this monument torn down, and many people thought it unacceptable, and this resulted in the decision to re-create it in Moscow. Many people felt that there must be a response to that. People thought that it wasn't merely a monument to Russian soldiers, but a monument to Soviet soldiers who protected all of the Soviet Union, including Georgia, during the Great Patriotic War [the conventional title for World War II in Russian history starting from June 22, 1941, when Germany launched its invasion of Russia].  Many people in Russia and Georgia deemed the demolition of the victory monument in Kutaisi a blasphemous act. It is quite symbolic that the demolition itself caused casualties – a mother and daughter were killed by the explosion's debris. That is how unprofessional and dangerous Saakashvili's regime has proved to be, even in its propaganda campaigns. I thinks moving a monument is a great idea, although Russia is the not the first country to come up with it.RT: Can you give examples of other countries?DM: In other countries, people even purchase and arrange for the relocation of monuments that are to be torn down.  In Italy, for instance, there is a communist, Roberto Napoleone, who bought a land plot and developed it into a park where he moves all the monuments to Lenin and communist leaders that have been taken down by the official authorities from different countries, mainly from Eastern Europe and the Baltic states.  He even had to pay for some of these monuments to ensure there are not demolished. Some of the monuments in his park are from Russia. In Russia, the monuments are not destroyed; they are taken down and stored in museums' storage facilities. That's how Napoleone created his memorial park. The idea caught on. Even in the Baltic States, for instance in Latvia, enthusiasts developed a park to house all the monuments to Lenin and Lithuanian communists. Lithuanian authorities are not keen on it, but neither are they counter-acting.RT: Getting back to the new Moscow monument… What message does this event send to society? The quick-wits focused on the fact the opening ceremony took place on the same day as Saakashvili's birthday, but is that the main point?DM: This event is of far greater use than any talk about patriotism and attempts to falsify history. Victory monuments are a material result of the communal effort to capture an important memory. Their meaning is that they confirm that people do feel and remember history as it was.  In this meaning, a monument's re-construction is highly educational.Georgian authorities destroyed the victory monument in Kutaisi on Saakashvili's birthday. The monument was restored in Moscow a year later. Therefore any questions about a birthday present must be addressed to the Georgian officials, as without their original decision Moscow would have had nothing to re-create.I recently had a talk with Dmitry Linter, a leader of the movement that opposed the relocation of the Bronze Soldier of Tallinn memorial. They had a half victory – the memorial wasn't destroyed but moved to the Tallinn Military Cemetery, although without the original stone structure. The community cried out and protected the monument. It was the first distinct move by the Russian community in the Baltic States where the Russian community is traditionally quite passive and uninvolved. But the fight for the memorial brought them together. Today, Dmitry Linter's effort is focused on taking care of other monuments being taken down, and there are many.Russia has a number of storage facilities for removed monuments, some of which are very famous, for example the monument to Felix Dzerzhinsky in Lubyanka Square in Moscow. Official public statements say that the 'Iron Felix' is in good condition and taken care of, but in reality no one knows how well these monuments are tended to. The officials promised to run open exhibitions of the monuments of the past, but nothing has happened so far.So, since there are such movements in Russia and in the Baltic States, they might appear in Georgia as well, and it's worth the effort. I'm talking now about the community's effort rather than the state's effort. Eastern Europe has had public movements like that and they have already developed a process flow. RT: The Moscow monument project received many donations including some from Georgia, and the monument was launched by no one else but Prime Minister Putin. This is a statement itself, isn't it, as the monument consists of a Russian and a Georgian soldier who together planted the victory banner on top of Berlin's Reichstag?DM: I think that the way the fundraising campaign, the work, and the opening ceremony were organized indicated that both the Russian and Georgian communities believe this event to be of high importance. It would be good to track down all such monuments in order to identify those that may be demolished and move them to the vast grounds of Victory Park. Such events are truly significant, and there will always be people ready to donate funds for such purposes. RT: There is a tendency in the West to rewrite history, particularly the history of World War II. Russia faces a negative attitude, very similar to what the Soviet Union faced. Nevertheless we build a monument to our victory?  DM: The anti-Soviet attitude actually evolved into the anti-Russian attitude. The West's negative view of the Soviet legacy, even though somewhat justified by our problems in the past and the fight against Communism, was automatically carried over to Russia. Communism has long been gone, no one is fighting against it anymore, but anti-Russian attitudes in the ideology of Western Europe stayed, even though they deny having any ideology. I will give you an example. Not too long ago at the latest CDU/CSU [Christian Democratic Union of Germany/Christian Social Union of Bavaria] convention in Germany, delegates – among other things – got a newspaper where one advertisement said, "Spend a Weekend in Königsberg. Claim Back East Prussia". This advertisement offered Germans weekend trips to our Kaliningrad region, which they call East Prussia, and told tourists to make sure they go with an attitude of revenge. Further, it said that the territory of East Prussia was "temporarily occupied by Russia". It was a big scandal. The party leaders claimed that it was a commercial advertisement: therefore they didn't control the content. I personally asked Andreas Schockenhoff, Representative Chairman of the CDU/CSU-fraction in the Bundestag about this. He did not give any political assessment, just repeated what the newspaper editor had said – that they didn't read the content of this commercial advertisement. RT: Nonetheless, Germany and Austria are countries that take exceptionally good care of Soviet memorials, using state budgets. Maybe one such advertisement doesn't mean much?DM: These countries have state policies on war memorials. These policies are strictly followed. Such ideological attacks often happen in unexpected places. Some official may miss something and as a result we get this advertisement calling for revision of the outcome of World War II. And not just in theory, but actually claiming territories and pushing for changing state borders.  That's why by building this monument in Moscow we not only demonstrate former unity between Soviet nations in the face of the Western aggression, but also emphasize that Russia will not allow any revision of history. RT: In the last decade, Russian cemeteries scattered throughout the world, from Africa to Latin America, have been restored. Many famous people have been buried there, members of some prominent Russian families. Why do you think it was so important to take care of these cemeteries? DM: It was important, because Russians are global people. They are present everywhere in the world, they live and die in different places, if they can't come back home. And many people couldn't return to their homeland in the 20th Century. At the end of September I got to visit a memorial cemetery of Russian and Soviet soldiers, killed in Port Arthur. It is the Chinese city of Dalian, known as Port Arthur in Russian history. Over 50,000 soldiers, killed during the Russo-Japanese War, World War I, and World War II, have been buried here. It took the effort of many people to clean up this cemetery. Both the Russian and Chinese sides took part in this. It is interesting that China insisted that Russia would not use the state budget for this, accepting money only from private funds. Russian researchers and representatives of the large Russian immigrant community worked together in China. They made it possible. It took over ten years to restore the cemetery. Before that the tombs were all covered with weeds, many were unidentifiable. Now a lot of soldiers have been identified, so there are fewer unnamed tombs. I have to tell you, it looks very impressive. Interestingly enough, Russia and China have a different interpretation of the first part of the 20th Century. China, for example, has a different view of who the aggressor was at that time. But the two countries were able to find a compromise – the cemetery was restored, President Medvedev led the opening ceremony. As an official representative of our country the president walked alongside the Soviet tombs, whereas the journalists had the chance to walk all around the cemetery. I have to say that even the Japanese who fought against Russia, showed their appreciation and paid tribute by building their monument to Russian soldiers. This noble respect for the courage of the former enemy is of course very appealing. The same thing is happening in South America, but it is not as complicated there, because most of the governments have friendly relations with Russia. So restoration of Russian cemeteries will take less time. The state has minimal contribution to that, for different reasons. Everything is mostly done through the efforts of Russian communities and local governments that have a positive attitude towards Russia. I think that having active Russian communities all over the globe is a strategically important task. Otherwise, how would we now know that in some remote area in Tunisia, for example, there is a Russian community, which has been there since the 19th Century? This Russian colony has its own museum and supports it without any help from the state. I think that the state should find resources to support these centers of Russian legacy.
Nadezhda Kevorkova, RT
You can share this story on social media: