Russia-Brazil relations: More than just beef
Published time: 14 Dec, 2012 14:44
Edited time: 14 Dec, 2012 18:44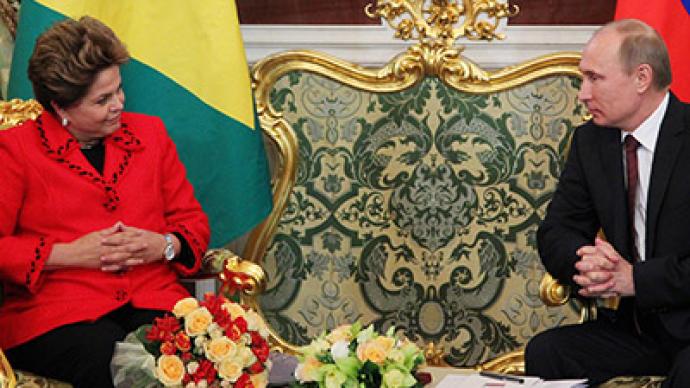 President Vladimir Putin praised relations with Russia's South American trading partner, as Moscow and Brasilia lay the groundwork for more intensive future cooperation.
­Following talks in the Kremlin with the Russian leader, Brazilian President Dilma Rousseff remained upbeat, lauding the potential for a major diversification of trade in various sectors between Brazil and Russia.
"Our trade turnover is growing," Rousseff said during talks with Russia's President Vladimir Putin on Friday. "We have opportunities to really diversify trade, as well as spark investment cooperation."
The Brazilian leader said Russia and Brazil share a "good road ahead" as the countries work to broaden investment opportunities in sectors as diverse as industry, infrastructure, energy and aerospace.
Rousseff went out of her to stress that Russia-Brazil relations are "not only in weapon supplies." 
Russia and Brazil need to cooperate more on the trade of industrial products, value-added goods and the service sector. 
Putin in his turn noted with satisfaction that, despite the global economic slowdown, trade turnover between Russia and Brazil remains robust.
"Our relations are developing rather intensely,"
he continued.
"This is noticeable both in international affairs and in economic relations."
Putin mentioned that Brazil is a major supplier of agricultural products to the Russian market.
"Russia is buying 41 percent of the beef exported from Brazil," he said, stressing that it was not the only direction of the bilateral cooperation.

The Russian leader then drew attention to Russia and Brazil's participation in international organizations, like BRICS, a group of fast-growing economies made up of Brazil, Russia, India, China and South Africa. According to IMF data, the four-continent BRICS represent almost 3 billion people, with a combined nominal GDP of US $13.7 trillion. 
At the St. Petersburg International Economic Forum in June, the Russian leader said BRICS should "play a bigger role in the world economy."
Putin's comments came after BRICS members pledged about $70 billion to the International Monetary Fund's crisis-fighting efforts in Europe, which continues to suffer from a sovereign debt crisis. 
China has committed $43 billion to the fight, while Brazil, Russia, India and Mexico promised $10 billion each. 
BRICS, which want to see its growing level of economic clout translated into more decision-making powers on the international stage, has stressed in the past that its members wants to reform the financial system and work for the "democratization of globalization."
According to an article in Foreign Policy Journal, such initiatives are "bound to further irritate Washington," which remains the "dominant authority over global finance."

Room for growth
According to Deputy Prime Minister Arkady Dvorkovich, Russia and Brazil have not reached the full potential of their cooperation.
Dvorkovich, speaking at a business forum devoted to the Brazil-Russia strategic partnership, pointed to the "similarity in structures" between the Russian and Brazilian economies, which are largely dominated by trade in commodity supplies.
"This is a good trade exchange, but it is clearly insufficient," he said. "The potential that our countries have created over the past few years, including in industrial production and technological development, allow us to anticipate increased trade and investment in these sectors."

One obstacle to further growth between the BRIC partners, according to Dvorkovich, is trade barriers. 
"This is certainly not because we have a bad attitude towards each other, we have a good attitude, but the reality of the global economy is such that sometimes we try to protect ourselves more than is necessary from external competition," the deputy PM said.

The governments of both countries have to find a solution to reduce trade and investment restrictions, he said.
Dvorkovich then mentioned a crucial sector of economic development that has a tendency to be overlooked.
Russia and Brazil will play host to a number of widely watched sporting events in the next few years. Russia will host the 2014 Winter Olympics in Sochi and Brazil the next Olympic Games in 2016. In 2014, Brazil will host the World Cup football championship; four years later, the event will move to Russia.
Both Moscow and Brasilia hope that such opportunities to showcase their respective countries show a dividend in greater international investment and trade.