Russia's envoy to NATO stays out of political struggle at home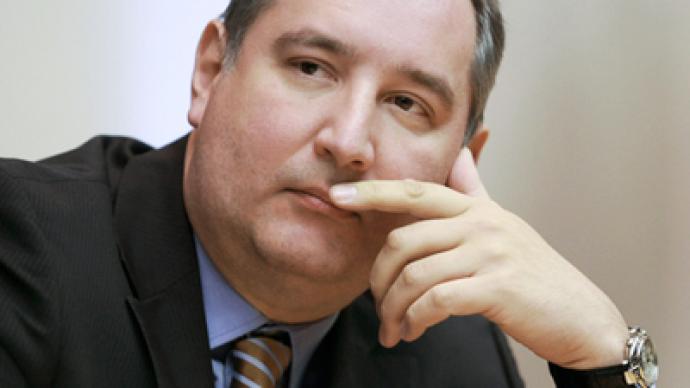 Ambassador to NATO Dmitry Rogozin is not willing to re-enter domestic politics while he occupies his current post.
Rogozin, in his words, has no plans to quit his position and head the Fair Russia party. Earlier reports said he could become a leader of that opposition party, represented in the State Duma, after its chairman Sergey Mironov quit his post. There have been more rumors about Rogozin's alleged plans to re-enter the Russian political scene, where he was a notable figure until the appointment to Brussels in 2008. He was the leader of the Rodina (Motherland) party, until it merged with two other parties to form Fair Russia in 2006. Despite the current rumors, Mironov still remains Fair Russia's informal leader, actively engaged in a quarrel with United Russia. The ruling party's leadership and its faction in St. Petersburg legislative assembly want to recall Mironov from the upper house, the Federation Council, where he is the speaker. The political attack against Mironov reinforced allegations that Rogozin may return to Russia's politics. Ever since he was appointed as the ambassador to the alliance, he has frequently appeared on TV screens, commenting on the Russia-NATO relations. So voters have not forgotten him."I have a position related to the issues of national security," Rogozin recently told journalists. He made it clear it was worthless to speculate on his chances to lead the party list of Fair Russia in the parliamentary elections due to be held this December. It depends on the US position on the European missile defense how long he will do his current state duty, Rogozin told journalists on Monday. To discuss political prospects in Russia while being in the state service "would be idiotic and irresponsible," he noted.Mironov also said earlier that Fair Russia's leadership had good relations with Rogozin, but the envoy to NATO was not a member of the party's leadership and was unlikely to become one. Meanwhile, the media "have found" another political option for Rogozin in Russia. Last week, the Congress of Russian Communities (KRO), created by Rogozin in the 1990s, following several futile attempts since 2006, was registered again by the Justice Ministry. Analysts have no doubts that this is connected with the forthcoming Duma elections. The main task of the congress since its foundation in 1992 was the defense of Slavic Russians in former Soviet republics that became independent states. However, this time Rogozin has not joined the leadership of this public organization, also explaining this by his current responsibilities. But observers still wonder if he will influence the congress's work.Another explanation for the surprise registration of KRO may be the authorities' attempt to curb rising nationalistic sentiments in Russia. Several nationalist groups recently announced their intention to register a new union after the Movement Against Illegal immigration (DPNI) was banned by court. Rogozin, who is actively engaged in talks with NATO and the US over the European missile defense, denies any relation between KRO's registration and the elections. The organization was earlier denied registration because formally one cannot "defend the rights of ethnic Russians on the Russian territory," Andrey Savelyev, Rogozin's close ally and one of KRO's leaders, told Moskovsky Komsomolets daily. The only possible chance was then found – to register KRO as an international union to help Russia's compatriots abroad. "Our motives have nothing to do with the elections," he said.
You can share this story on social media: