Court rules opposition activist's arrest legal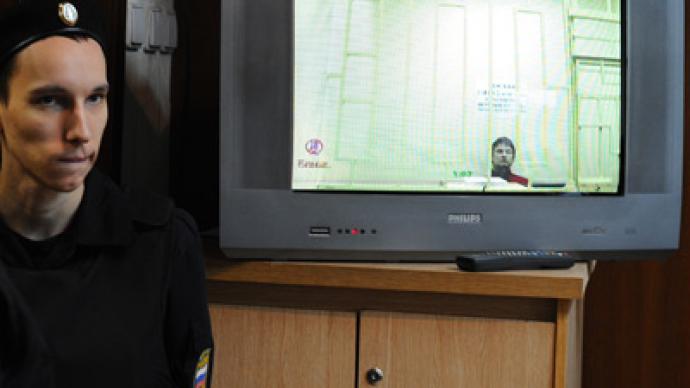 The Moscow City Court has upheld the arrest of a leftist opposition activist Leonid Razvozzhayev who is accused of plotting to organize anti-Kremlin riots.
The court rejected on Wednesday an appeal by Razvozzhayev's lawyers who asked to cancel a district court decision and release their client from custody. Attorneys plan to continue fighting and appeal the ruling. The opposition activist, who is also an aide of Fair Russia's MP Ilya Ponomaryov, said the case against him is a "political provocation". He denied all the accusations and asked the court not to consider his earlier confession claiming he was "tortured" and forced to admit guilt.The criminal case against Razvozzhayev and several other opposition activists, including Left Front coordinator Sergey Udaltsov and his aide Konstantin Lebedev, was opened following a controversial documentary "Anatomy of Protest-2" aired on Russian NTV channel early in October. It showed what the film-producers claimed to be footage of the opposition members' meeting with Georgian officials where they planned to stage mass protests in Moscow and other cities. On October 22, Russia's Investigative Committee said that Razvozzhayev turned himself in to investigators in Moscow and confessed to plotting riots with foreign backing. A day later, official charges were brought against him. However, the suspect and his allies say he was kidnapped in Kiev where he was applying for refugee status at the UN refugee agency UNHCR. They claim he was delivered to Moscow by Russian special services and even tortured. The Investigative Committee launched a probe into the matter and later rejected claims that Razvozzhayev was tortured or beaten. "When he arrived at the pre-trial detention center Razvozzhayev was examined and no bodily injuries were registered. He has not requested medical assistance," committee spokesman Vladimir Markin said, cited RIA Novosti.The Basmanny District Court ordered Razvozzhayev's detention for two months.Another suspect in the case – Konstantin Lebedev also remains in custody.On Wednesday, the activist withdrew his arrest appeal as he "doesn't believe in the court's fairness," his lawyer Violetta Volkova told the RAPSI news agency. Meanwhile, Udaltsov, opposition leader and active participant in post-election protest rallies has been questioned and released with travel restrictions. The activists may each face up to 10 years behind bars if found guilty.