Opposition activist claims torture, police say he turned himself in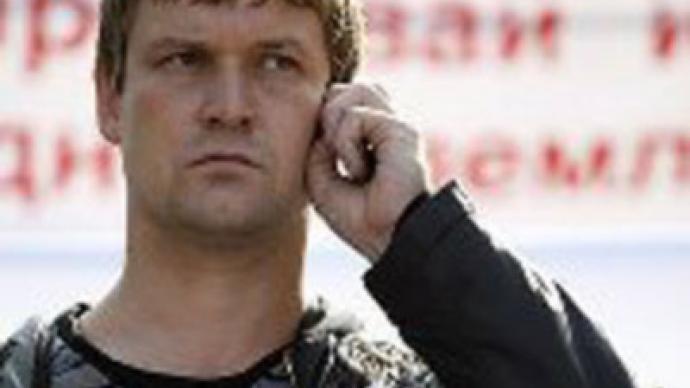 A leftist activist suspected of organizing mass riots has turned himself in, Russia's Central Investigative Committee reported. Meanwhile the suspect's allies and colleagues voiced claims of kidnapping and even torture.
Russian opposition activist Leonid Razvozzhaev was detained in Ukraine, taken to Moscow and placed in custody. He has filed in a written confession, committee spokesman Vladimir Markin told the press."Razvozzhayev was put on the federal wanted list on October 18 and as soon as October 21 he presented to the Main Investigative Department…in order to write a confession," Markin said. The official stressed that the activist was questioned in the presence of his lawyer and that Russian MP Ilya Ponomaryov, for whom the activist works as an aide, had been duly informed about all developments. The spokesman also added that Razvozzhayev reported in detail how he had prepared the organization of mass riots on Russian soil and that together with opposition activists Sergey Udaltsov, Konstantin Lebedev and others, he was complicit in the bloody riot on May 6 on Bolotnaya Square in Moscow.Markin reported that the detained activist confirmed that the money for protests came from Georgian political strategist Givi Targamadze, a detail mentioned in the earlier testimony of Left Front leader Udaltsov, and before that in the film Anatomy of a Protest-2, aired by the Russian NTV channel. Markin's comments came after several Russian opposition websites and activists cried foul about the Razvozzhayev case, claiming the activist had been kidnapped. As he left the Kiev office of the UN refugee agency UNHCR, a group of plain-clothed men grabbed him, pushed him into a car and sped away, Kommersant Daily reported, quoting unnamed witnesses. UNHCR spokesperson Aleksandra Makovskaya told the media that Razvozzhayev did not visit their Kiev office, but addressed their partner, the US NGO HIAS (The Hebrew Immigrant Aid Society), which consults those who wish to receive refugee status. She also said he vanished during a lunch break. "He disappeared, leaving his things, we could not establish any contact, our lawyers were worried and informed the law enforcers that a man was missing," the Interfax news agency quoted Makovskaya as saying. MP Ilya Ponomaryov tweeted a claim that Razvozzhayev was taken by Russian special services and flown to Moscow on a private aircraft. On Sunday evening the Basmanny District Court in Moscow ordered his arrest for two months pending investigation.However, as Razvozzhayev exited the court building he shouted "tell them I was tortured for two days!" and a video of this incident was posted on the internet by Russian tabloid website Lifenews. The video was also reposted by Razvozzhayev's defense attorney Violetta Volkova on her private blog. The lawyer claimed her client managed to submit an application to the UN refugee agency, and thus his delivery to Moscow was a violation of the extradition convention. The UNHCR has not yet commented on this statement, which contradicts the agency's own reports. On Monday afternoon the Investigative Committee's spokesman said the agency had launched a probe into Razvozzhayev's torture claims.Also on Monday, another participant in the scandal, Georgian MP Givi Targamadze, rejected accusations of sponsoring public unrest in Moscow. The parliamentarian described all earlier reports on the subject, including Razvozzhayev's testimony as "absurdity".Earlier, a district court in Moscow ordered the arrest of Konstantin Lebedev, an aide to Udaltsov, who is accused of preparations for mass disorder. Udaltsov himself was questioned and released under a travel ban. Last week the Central Investigative Committee launched a criminal case against Lebedev, Udaltsov, and Razvozzhayev, charging them with conspiracy to organize mass riots – the felony carries a sentence of up to 10 years in prison.
You can share this story on social media: