Russia-NATO summit results "inspiring" – Medvedev
Published time: 4 Jul, 2011 10:49
Edited time: 4 Jul, 2011 17:28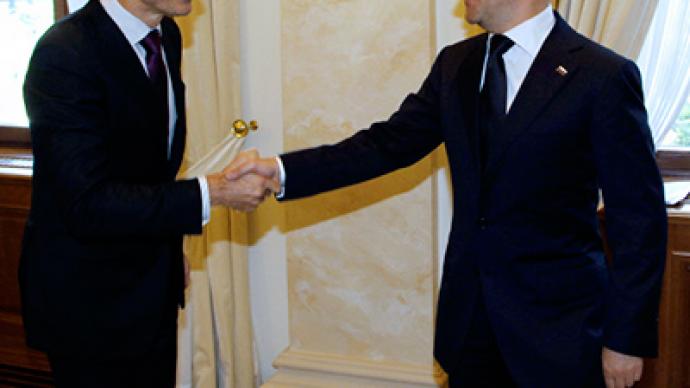 President Dmitry Medvedev has called the Russia-NATO Council's meeting in Sochi effective and said that both sides managed to make progress on pressing issues.
"I believe that we were all inspired by the results we achieved. The meeting was rather productive and, I hope, we have made progress on the topical agenda," he told participants at the meeting, cites Interfax.
According to the Russian leader, this "unique window of opportunity" was opened by the Russia-NATO summit which was held in Lisbon in November of last year.
"I believe that the decisions which were made were very positive since it is exactly on the basis of such decisions that we can build a strategic partnership on the principles of the indivisibility of security, mutual trust, and predictability," Medvedev said. On the whole he said, it would be good for global security and meet the expectations and interests of the citizen's of all our countries.
Medvedev also noted that it was the first time that the Russia-NATO meeting had been held in Sochi, the Russian city and resort area on the Black Sea, and expressed hope that it would contribute to creating the "necessary atmosphere".
"The weather is warm and relations should be good," the president said.

NATO's Secretary General thanked the Russian President for the warm reception and said that the Russia-NATO council was an important structure which successfully performed its duties. Anders Fogh Rasmussen also said that NATO and Russia must continue to solve the most pressing concerns, such as finding a solution to the missile defense row.
The NATO chief said that Russia and NATO were already successfully cooperating in many areas such as fighting terrorism, piracy and drug trafficking. The official stressed that cooperation was the right avenue of common existence, but said that much more could be done, especially in the sphere of missile defense.
Anders Fogh Rasmussen said that there were thirty nations in the world who already had missile technologies or intended to get them in the nearest future. This meant that NATO members had to develop their capabilities, but welcomed cooperation with Russia in this sphere. Cooperation is the only option and Russia and NATO must follow this path, the official said.