Rock star vs. Putin: man-to-man talk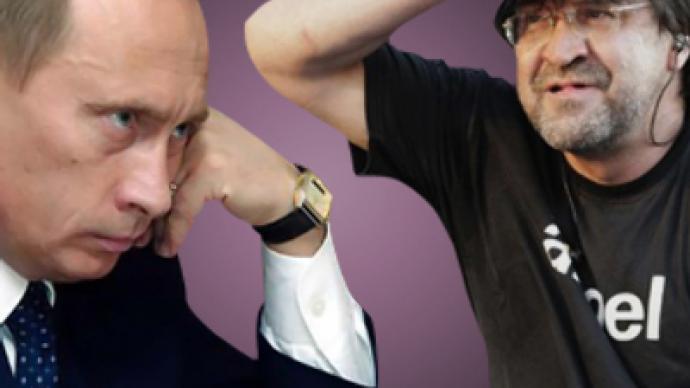 Premier Putin was challenged with sensitive questions about freedom of speech and democracy in the country during a dinner with the Russian cultural elite at a charity event in St. Petersburg.
Representatives of the Russian intelligentsia – famous actors and musicians, as well as politicians – got together in the northern capital on Saturday to attend a charity evening for children with cancer. Prior to the show entitled "Little Prince," Prime Minister Vladimir Putin had a meeting with its participants and organizers. The discussion during the dinner, however, went far beyond the issues related to charity.
"We can actually discuss any issue, whether it is related to today's event or not," Putin said, as quoted on the premier's official website. And the artists did not hesitate for long to use the opportunity to tell the prime minister what worries them most.
The premier's showdown with a famous rock star – who has been performing on the stage for 20 years – became the hit of the dinner, making headlines in the Russian media the following day.

Yury Shevchuk, the lead singer of the rock band DDT, started his dialogue with Putin by saying: "You know, some aide of yours – I don't remember his name – called me yesterday and asked me not to bring up any sensitive issues, political problems and other things."
In response, Putin asked the rock star to introduce himself. "Yura, it was a provocation. My aide could not have called you on such a matter," he said.
"Okay, not your aide; some lunatic, yes," Shevchuk went on, causing gales of laughter in the room.
The sensitive issue that the singer actually wanted to hear the premier's comments on was freedom of the press and freedom of information.
"What is happening in the country now… We are reliving a class society that has remained the same for a thousand years,"
he said. There are "dukes and boyars" possessing cars with signal lights, the rocker said, referring to the common practice in Russia when officials use special lights on their vehicles to give them privileges over common drivers on the roads.
"And there are common people who toil away… And there is an immense gap between them. I am sure you know this," he said.
According to Shevchuk, individuals should be free and have self respect. That, he said, would result in a natural patriotism.
"You cannot arise this feeling with a banner," he stated.
The singer noted that he is certain it is not him alone, but every intelligent person – "four eyes, let's say" – who see what is happening in the country.
"We see those banners, but it is all so superficial. It is a lame attempt to show patriotism and maybe conscience. These chants and marches – we have seen all that before," he said.
The only effective solution, Shevchuk believes, is a civil society and equality before the law for "absolutely everyone." Only then, he said, "will we move ahead," build hospitals and help children, people with disabilities and elderly people. And it will be done sincerely and willingly, he added.
"But for that we need freedom of the press, which is missing now. There is one paper and a half in our country," he said. What is shown on television, Shevchuk went on, "cannot even be called polemics" but "the same marches and chants."
According to the rock star, "The protesting electorate is growing in number, and you know it."

Dissatisfaction with government policies among voters is growing. In March, thousands of Russians took to streets to participate in a so-called "Day of Wrath" – opposition rallies which were held throughout the country. And even though the main point of the gatherings was to protest against an increase in transport tax, calls for the resignation of the government were heard in the crowds.

"Are you honest when you say you want real liberalization and modernization for a real country, where public organizations are not suffocated and where people do not feel scared of a policeman on the street?" Shevchuk asked, as quoted by the government's website.

Almost every day brings news of new cases of police brutality and abuse of power in various parts of the Russian Federation. Last year the country was shocked by a supermarket shooting spree, when Police Major Denis Yevsyukov gunned down two people and injured six more.
From high rhetoric to practical issues, the rock singer's final question referred to the so-called "Dissenters March" – a demonstration by opposition and human rights activists – which is scheduled for Monday, May 31.
"Will it be dispersed or not?" he wondered. Apparently in an effort to convey that his accusation were well founded the singer also passed over to Putin a file with papers, which were "just some facts describing what's happening in our country, plus our opinion."
Putin, having quietly listened to the singer's monologue, began with a general statement saying that for him it is obvious that "the country will have no future without democratic development."
"Individuals can build on their capabilities only in a free society. And if they are able to do so, they contribute to the development of the country, its science, its industry, taking it to the highest possible level. Otherwise, society stagnates. It is an obvious fact, understood by all," he said, as quoted on the premier's web page.
Putin also agreed that everyone should act within the framework of the law.

Referring to Shevchuk's not very flattering comment on the country's policemen, the prime minister noted that different kinds of people work for police. "These people have not come from Mars," he said, adding that many policemen risk their lives serving society. Therefore it is unfair to tarnish the image of all the police officers.

Here the conversation got a bit more emotional as the premier got interrupted by the singer, who did not admit to tarnishing policemen. Shevchuk gave an example of what normally happens at "Dissenters Marches."
"There are 500 of us and 2,500 special forces. Have we killed or stabbed anyone with a knife?"

"I listened to you carefully and did not interrupt," Putin hit back, adding that this way the conversation will turn into an uproar.
As for the rally, Putin said, there are rules that provide for such events to be regulated by local authorities.
"Apart from people who take part in those dissent marches or approved marched, there are other people whose rights we should not forget about," he stated.
"If you decide to hold a 'Dissenters March' – I beg your pardon for harsh words – near a hospital and disturb ill children, no one will allow you to do that," he said.
However, the Russian prime minister said that authorities should not use that as an excuse to limit the freedom of speech.
"I hope in St. Petersburg everything will be organized wisely: people will be allowed to express their disagreement with authorities' policies," he said. The premier stressed that such demonstrations do not bother, but on the contrary, help him and other representatives of state power.
Opposition rally banned
On Monday, the opposition and human rights activists planned to hold a rally on Moscow's Triumfalnaya Square. However, the gathering was banned by authorities.
According to Interfax, over 100 people out of about 450 who attempted to stage an unsanctioned meeting were detained for violating rules set by the Administrative Code.
"Despite the fact that the Moscow Mayor's Office had tried in every way to settle discrepancies with the organizers of the so-called 'March of Dissent,' to whom various venues were being offered throughout Moscow, those people rejected the sites for their rally that had been offered to them and tried to wreck the blood donation rally on Triumfalnaya Square," city police authority spokeswoman Zhanna Ozhimina told the agency.
The blood donations were organized by pro-government youth movements at the square the same day.
On Tuesday morning police said that most of the protesters had been released. All in all, 150 protocols on administrative offences were drawn up.

According to reports, neither the opposition leaders nor leading human rights activists were among those detained by police.
Russia's human rights ombudsman Vladimir Lukin insists that the Ministry of Internal Affairs should carry out a thorough investigation into the dissolution of the opposition march. He told journalists on Tuesday that he was at the scene of the events and witnessed law enforcement agencies acting "extremely toughly and rudely".
The ombudsman said he has drafted his proposals on how to improve the situation with holding rallies and is going to present them to the country's leadership. Lukin recalled his recent meeting with Dmitry Medvedev.
"The president asked me to take initiatives. That is what I have done," he said.
Lukin observed that, under Russia's legislation and according to the 31st article of Russian Constitution, permits for organizing rallies are issued on a notification basis. "Russia's legislation contains no such words as 'authorized' or 'non-authorized' and all talks about sanctions are flowery and biased," added the ombudsman.
An attempt to hold a similar gathering in the center of St Petersburg – also banned by authorities – resulted in about 60 people detained for violating Federal Law No. 54, "On Assemblies, Rallies, Demonstrations, Processions, and Pickets", Interfax writes.
It has been nine times now that protesters have attempted to stage a meeting exactly at the end of the month – on the 31st – since the idea is to support Article 31 of the Russian Constitution which states: "Citizens of the Russian Federation shall have the right to assemble peacefully, without weapons, hold rallies, meetings and demonstrations, marches and pickets."
It is expected that the next attempt to hold a rally of the same kind will be made on July 31.
Putin not in a position to permit rallies – spokesman
The following day after Putin's meeting with the intelligentsia, his secretary, Dmitry Peskov, called on the public not to misinterpret the premier's words.
"Many are now in an exalted way taking the discussion of Vladimir Putin with the organizers and participants in the charity soiree and distorting its sense," Peskov told Echo of Moscow radio station, Itar Tass reports. "Even the calls to gather for the actions because Putin has allowed it and nobody will be bothered can now be heard. Nothing of the sort," he stressed.
"Putin has allowed nothing, because he cannot allow it; this is done by the local authorities. Putin just said that everything should be done within the law."
"Putin said that undoubtedly there can be no order without democracy, but there also cannot be democracy without order, and everything should be strictly within the law," he explained.

Natalia Makarova, RT
You can share this story on social media: