Georgian opposition leader Nino Burjanadze pays a visit to Moscow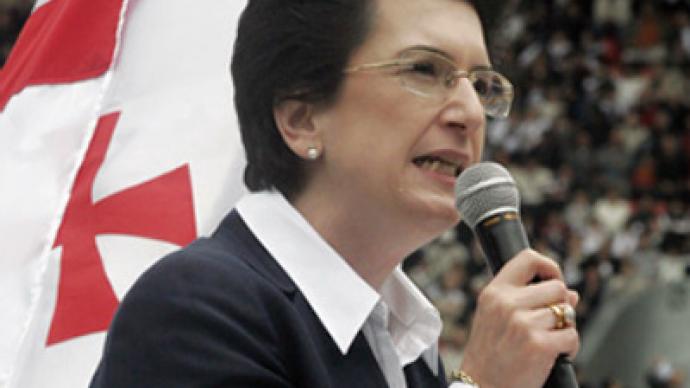 The former head of Parliament, and now a prominent leader of the Georgian opposition, Nino Burjanadze is striving to change the face of Georgian politics forever.
Burjanadze, the leader of the "Democratic Movement for United Georgia" party, is in Moscow for a series of meetings with Russian officials in the latest effort to normalize relations between the two countries, as well as to cement Burjanadze's credentials as a plausible replacement for current Georgian President Mikhail Saakashvili.
Nino Burjanadze, who some say is the Yulia Timoshenko of Georgian politics, was a key ally of Georgian President Mikheil Saakashvili during the 2003 Rose Revolution. But today she is a bitter critic of the government and is now looking to shore up her international standing with a trip that will also take her to Europe and the United States.
A crowd of her supporters gathered in the early hours of the morning at the Tbilisi airport to see off their political hopeful on her whirlwind tour. Burjanadze used the opportunity to voice her concerns about the current ruling regime in Georgia, and express her reasons for opening dialogue with Russia.
"While most of the opposition forces are busy with the upcoming Tbilisi mayoral elections, and while the current government is busy with blackening the names of the Opposition leaders, I'm busy with big politics," Burjanadze said.
Previously, the opposition leader was not so eager to meet with Russian officials, nor having any sort of dialogue with Georgia's large neighbor to the north. In fact, when another Georgian opposition leader, former Prime Minister Zurab Noghaideli, paid a visit to Moscow at the end of last year, Burjanadze criticized him for his venture.
Since then, however, the woman who many Georgians look to for a new future seems to have reconsidered her views. Prior to her trip, the former Parliament Chairwoman said that she was going to Russia in order to defend Georgia's interests because Russia is not only a neighboring state, but a large and powerful country whose position on all issues has tremendous bearing on all Georgian people.
Burjanadze did not mention whom she is planning to meet in Moscow, but her visit has already garnered vocal support from Zurab Noghaideli and his party, "For Fair Georgia". Noghaideli himself has travelled to Russia four times since December last year, meeting with Prime Minister Vladimir Putin and other Russian officials – and it is probably no surprise that his trip made President Saakashvili very unhappy.
During his recent State of the Union Address, the Georgian leader made a transparent remark concerning such "excursions", saying "there will always be at least one rotten Georgian" who will be willing to open relations with the Kremlin. Now there seems to be at least two such people in Georgia.
"Burjanadze is in a very good position for this," said Petre Mamradze, a member of "For Fair Georgia" party. "During her time as a head of Parliament, she made very good connections, met with all prominent Russian politicians, and has had a very good dialogue with them."
Mamradze said Burjandaze's move is a very strong and brave one. "Everyone, who makes a friendly gesture towards Russia is immediately labeled as a traitor by the government," he said. "They're treated as enemy of the state."
Robert Bridge, Irina Galushko, RT, Tbilisi
You can share this story on social media: