Georgia intends to turn to international courts to file a lawsuit against Russia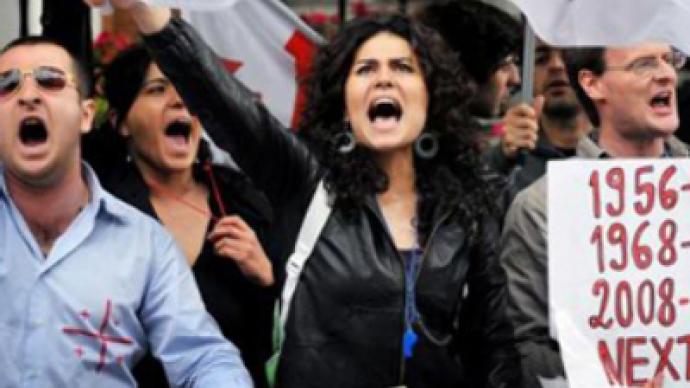 Georgia intends to turn to international courts to file a lawsuit against Russia, claiming the country provoked the Georgian-Abkhazian and Georgian-South Ossetian conflicts.
Reportedly, Tbilisi wants to claim anywhere from 20 to 40 billion dollars in damages. That should cover not only material losses Georgia claims to have sustained during the 2008 conflict, but also make up for what they call damages to the country's economic development. The lawsuit will also cover the alleged damages made by Russian companies operating in Abkhazia and South Ossetia.
A special Temporary Commission on Georgia's Territorial Integrity is responsible for calculating the amount of retribution.
The claims will be brought to discussion in Georgia's parliament, after which a special governmental commission may be set up to get the wheels turning on the lawsuit. This is according to the chairman of the temporary commission, Shota Malashkhiya.
However, many analysts in Georgia believe the lawsuit, if it will be filed, indeed, will be a purely political gesture, with no perspective of ever being successful.
Georgian Professor of Constitutional Law Vakhtang Khmaladze says Tbilisi will have a hard time providing justification for the lawsuit in an international court. According to him, Russia will not pay a penny, since that would mean agreeing with Georgia's point of view.
Many see this as yet another stubborn attempt on Georgia's part to reiterate its point that Russia is the main perpetrator in the 2008 conflict with South Ossetia.
Notwithstanding the report filed by the Special EU commission, which laid the blame on President Saakashvili for starting the conflict, Tbilisi continues to press its cause.
Meanwhile, Moscow for its part has been very vocal about its intention to prove Georgia's aggression against South Ossetia in August 2008.
Head of Russian Investigative Committee Aleksandr Bastrykin said that, in fact, Georgian authorities must be investigated and brought before international courts of justice for the Georgia-South Ossetia conflict.
Last week in Tomsk, Russian President Dmitry Medvedev noted that he believes Mikhail Saakashvili must answer to his own people for bringing the country to war, causing numerous fatalities, and, in the end, losing a large part of Georgia's territory. Medvedev expressed his belief that it is Mikhail Saakashvili who should be taken to court to answer for his actions in the Georgian-South Ossetian conflict.
According to official data, 192,000 people were forced to leave their homes in the aftermath of the 2008 conflict. More than 4,000 South Ossetians have not returned to their homes since. Out of 30,000 Georgian refugees, 18,000 have since been accommodated in new villages built especially for them. The rest, however, still have no permanent residence.
Irina Galushko, RT, Tbilisi
You can share this story on social media: