Russia to continue helping South Ossetia, Abkhazia – Putin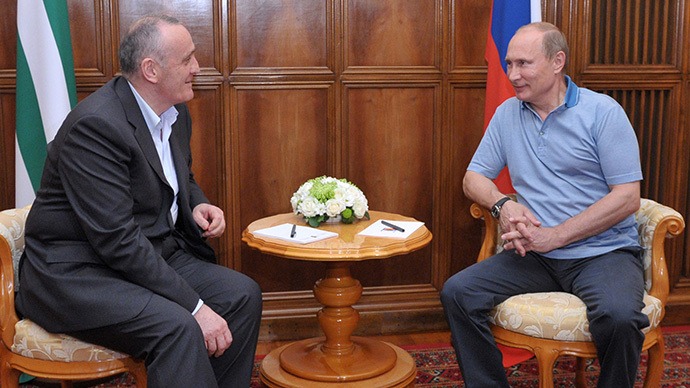 The Russian President has congratulated the leaders of the two republics on the fifth anniversary of international recognition of independence, and promised future aid and support from Russia's side.
On the eve of the holiday, Vladimir Putin paid a working visit to Abkhazia's resort town of Pitsunda where he held a meeting with the country's President, Aleksandr Ankvab.
On Monday the Russian President sent addresses to Ankvab and to the South Ossetian President, Leonid Tibilov. In the messages the Russian leader wrote that the decision to support the two nations' struggle for independence, made in 2008, was not easy but it was the only right option. Such a move was crucial for the young states because it allowed them to take independent decisions on their future, Vladimir Putin added in his message.
Russia will continue to provide comprehensive help and support to the republics, Vladimir Putin emphacized.
The Georgian Foreign Ministry reacted to Putin's visit with a note of protest, calling it an attempt to usurp Georgia's sovereignty and territorial integrity. Georgia continues to insist on its right to South Ossetia and Abkhazia, even though the failed attempt to capture these lands was one of the main reasons the supporters of nationalist president, Mikhail Saakashvili, lost in the last parliamentary poll to much more Russia-friendly, Bidzina Ivanishvili.
Russia officially recognized the independence of South Ossetia and Abkhazia in August 2008 – shortly after the Russian military repelled the Georgian armed forces' attack on South Ossetia in the so called "five days war". These nations broke away from Georgia in the early 1990s, following a civil war, but their status only became official thanks to Russia's political resolution. Several other countries, such as Nicaragua and Venezuela, have also recognized the republic's independence following Russia's examples.

You can share this story on social media: