Putin's 1st foreign visit confirms Eurasian bloc ambitions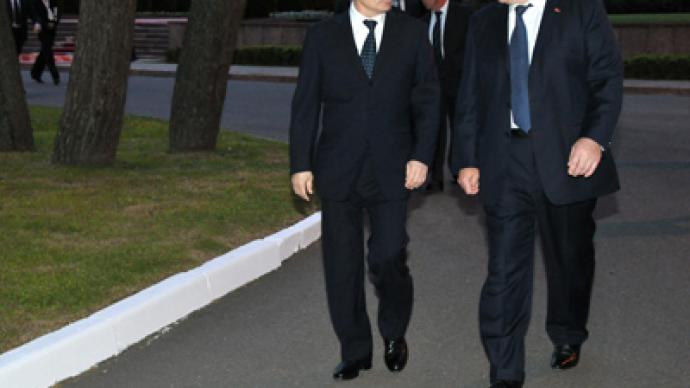 Vladimir Putin's plans to create a Russia-dominated Eurasian economic and military bloc began to be implemented as the Russian president began his first foreign tour with a visit to Belarus.
Putin has outlined integration of the post-Soviet space as a top priority in his campaign articles and his visit to Belarus showed that Russia has both desire and opportunities to implement the plans by economic means. The visit to Belarus is the first leg of Putin's first foreign trip after his election as president in March, as the head of state missed the latest G8 summit at Camp David and sent Prime Minister Dmitry Medvedev in his stead.At the meeting with his Belarusian counterpart Aleksandr Lukashenko, Putin praised the two nations' unity and announced the disbursement of the third tranche of bailout from the EurAsEc – a regional economic grouping of former Soviet republics led by Russia.Belarusian President Aleksandr Lukashenko announced that, though the economic side of the visit was important, Russia's demonstration of its political priorities was even more so."I am very grateful to you for this visit. This visit is more important than many economic agreements between Russia and Belarus. This is a signal that we have a great future," Lukashenko said at the ensuing press conference. The Belarusian president indicated that his nation was ready for cooperation and expected the plan to come out in success. "Good years are yet to come for us, I am sure," Lukashenko stated. "We have already achieved good results, both in politics and in the economy," he said, adding that the creation of a Union State between Russia and Belarus was the "main success" in bilateral relations. Belarus "has been and will always be Russia's closest and most reliable ally.Lukashenko's enthusiasm is understandable, as within the framework of the visit, Russia and Belarus signed a joint declaration saying that they will together counter all foreign attempts to affect the internal affairs of the Union State, including limitation and sanctions.Putin said at the meeting that Russia's recent financial support to Belarus has amounted to US$5 billion and added that Belarus buys Russian energy at low prices that are dropped even further as cooperation strengthens. Minsk is expected to receive the third tranche of the emergency US$3-billion loan from the bloc by the end of 2012 on condition that the country implements a package of measures to restore its soured economy. "We will also start talks on the fourth tranche," Putin added.Apart from that, the head of the Russian nuclear giant Sergey Kiriyenko, who was accompanying President Putin on his visit to Minsk, told the press that the Russian governmenthad confirmed plans to finance the construction the new Belarus nuclear power plant and the main contract between the two countries could be signed as soon as in June. After Belarus, President Vladimir Putin will head for brief visits to Germany and France where he plans to discuss bilateral relations and international issues, including the situations in Syria, Iran and Afghanistan, presidential aide Yury Ushakov said on Thursday.The General Director of the Russian Center for Political Conjuncture, Sergey Mikheyev noted that Putin's first foreign visit was a clear sign of both Russia's unwillingness to follow the political course dictated by the United States and the ambitions to continue the post-Soviet integration. Mikheyev said that in his view Putin chose Belarus as his first destination because he wanted to support Lukashenko at a time when Western nations are targeting Belarus in a series of unfair attacks. The move also allowed Putin to demonstrate that Russia's foreign policy is determined by its own interests rather than by ideas imposed from abroad. The analyst recalled Putin's refusal to attend the recent G8 meeting and said that it could be caused by the fact that it was held almost simultaneously with the NATO summit in Chicago, which intended to approve the "anti-Russian project of the European missile defense," and the Russian president's presence in the United States could be perceived as a "silent agreement" with these plans. "The USA is the number one power in the world and relations with it must maintain stable, but this is not a priority objective for Russia. Vladimir Putin demonstrated exactly this," Sergey Mikheyev noted.Other experts note that Putin's visit to Minsk marks a change in relations between Russia and Belarus from pure pragmatism to mutual aid and cooperation. Co-chairman of the Belarusian political party Belaya Rus, Sergey Ryzhov, noted in his blog that the thaw in relations demonstrates that Belarus had failed to blackmail Russia with the plans to participate in EU's Eastern Partnership program, as well as with moves to lower its dependence from Russia's energy supplies. Besides, Ryzhov noted, Lukashenko seemed completely to have given up his habit of blaming Russian authorities and Putin personally for various trade conflicts between the two nations. This can only mean that Russia and Belarus are set to speed up cooperation, despite the personal likings and preferences of their leaders.