Putin vows to build cutting-edge nuclear station in Belarus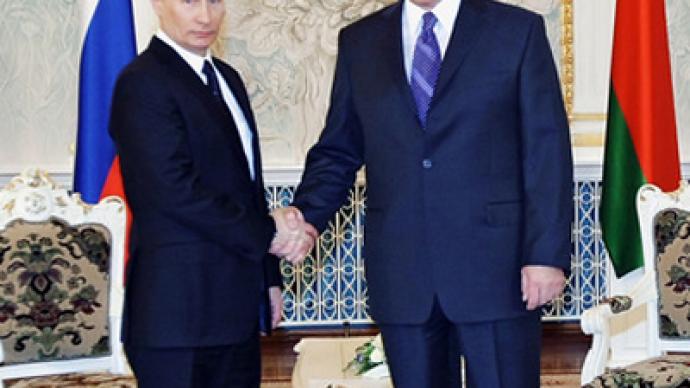 At a meeting with Belarusian President Aleksandr Lukashenko, Prime Minister Vladimir Putin said that Russia will help Belarus to construct its first nuclear plant, which would be more secure than those damaged by the recent quake in Japan.
Putin said that prior to his trip to Minsk, on Tuesday morning he got experts together to discuss Russian-Belarusian cooperation on constructing a nuclear power plant in the former Soviet Republic. "We will delve into it in more detail later," he told Lukashenko, reports RIA Novosti."But I can say straight away that the projects that you and I are discussing, and plan to fulfill, are most up-to-date designs and they involve, of course, much better safeguards," he said.That is despite Belarus being in a far safer seismic zone than Japan. The Russian prime minister added that the Japanese stations – damaged by the devastating earthquake on March 11 – used reactors that were made in the US more than 40 years ago. Putin said that following the events in Japan, the situation in the world economy looks uncertain. "We are facing yet another crisis…It is understandable that it will have consequences for the world economy. It is clear that there will be an impact, but right now even many experts cannot grasp what the impact will be," he said. On Tuesday, Putin arrived on a working visit to Belarus to take part in a session of the Council of Ministers of the Union State of Belarus and Russia, a meeting of the Interstate Council of the Eurasian Economic Community – the highest body of the customs union between Russia, Belarus, and Kazakhstan – and, also held talks with President Lukashenko. The Belarusian leader said that Minsk has pinned high hopes on the Common Economic Space that is planned to be created within the Customs Union."In Belarus, we have always placed great expectations on that union, and we see its great potential," Lukashenko said. Evaluating Moscow-Minsk relations, he noted, "We have no problems in the economy." He recalled that in the middle of 2010, the two states had agreed to iron out all the differences and start the new year on a clean slate. He admitted that both Russian and Belarusian economies are experiencing problems that had been brought from outside, but "they are not lethal".
You can share this story on social media: