Khodorkovsky, Pussy Riot members may be part of amnesty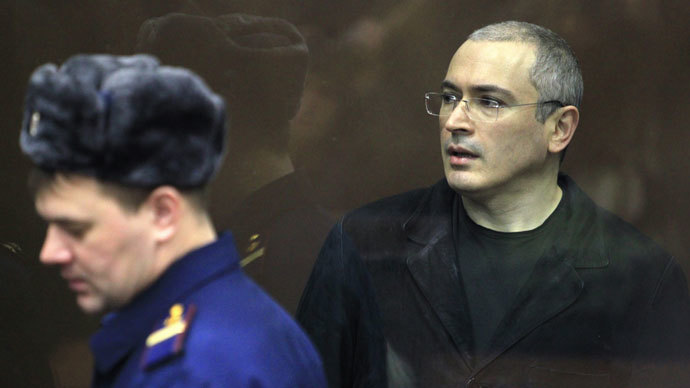 Former oil tycoon Mikhail Khodorkovsky may be freed under an amnesty dedicated to the 20th anniversary of the Russian Constitution, the country's leading human rights official said after a meeting with President Vladimir Putin.
"Yes, I think so," Mikhail Fedotov, head of the Presidential Council on Civil Society and Human Rights, said when asked by the journalists about the prospects for Khodorkovsky's early release.

Formerly Russia's richest man and head of major oil firm Yukos, Khodorkovsky was arrested in 2003 and later sentenced to nine years in prison on embezzlement and tax evasion charges.

In 2010, Khodorkovsky's prison term was prolonged after he was found guilty of large-scale theft of oil and money laundering in a separate case.   

The former tycoon is due to be released from prison in August 2014 after spending nearly 11 years behind bars – but the amnesty may now reduce his time.

The members of the Pussy Riot punk band, who staged a protest in Moscow's Christ the Savior Cathedral, may also be pardoned, Fedotov was cited by RIA-Novosti news agency as saying.

The same goes for top opposition figure Aleksey Navalny, but only if the clause that foresees the pardoning of those on probation remains in the bill after it receives parliamentary approval, Fedotov said.  

Navalny, who came second in the race for Moscow mayor in September, received a five-year suspended sentence for embezzlement in October.

Fedotov spoke to the media after he and Russia's Ombudsman for Human Rights, Vladimir Lukin, visited Vladimir Putin's residence outside Moscow on Wednesday.

During the meeting, the Russian president expressed his support for the amnesty bill, which the Council on Civil Society and Human Rights has prepared.

"I agree with your proposal as a whole," Putin said. "We'll modify this document together with the deputies of the State Duma, and I'm asking you to actively participate in this process."

But the head of the state emphasized: "The amnesty can only cover people who have not committed grave crimes and violent actions against representatives of state authority, I mean law enforcers, first of all."

Lawyers have hurried to interpret those words that those convicted and tried for participation in the May 2013 riots at Moscow's Bolotnaya Square shouldn't hope for amnesty.

The Greenpeace activists who were detained after an attempt to board Russia's Prirazlomnaya oil platform in the Barents Sea in September, are unlikely to fall under the amnesty, Greenpeace's lawyer Anton Beneslavsky said.   

"Hooliganism is a grievous crime under Russian law," he said.

Later Wednesday, Putin's press secretary, Dmitry Peskov, said it was too early to talk about specific people who may be freed under the amnesty.

According to Fedotov, the amnesty dedicated to the 20th anniversary of the Russian Constitution, which is celebrated on December 12, 2013, may affect around 100,000 people.

You can share this story on social media: