Top HR council agrees on amnesty draft possibly covering Pussy Riot and Bolotnaya cases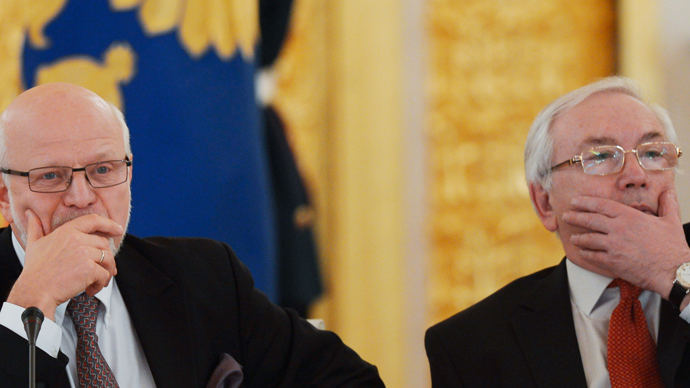 The top Russian human rights body has approved a draft 'broad amnesty' on the anniversary of the Constitution, and various members hinted the bill could cover the most high profile criminal cases in the country.
Earlier, President Vladimir Putin has asked the experts from the Justice Ministry, legislative assembly and Human Rights advocates to present their opinions on the amnesty by October 15. The Presidential Council for Human Rights held a special session on Friday dedicated solely to the subject. As the session ended council members told the press that they had agreed on the so called "broad amnesty" draft, but added that the exact text of the document could only be disclosed to the President.
The head of the council Mikhail Fedotov told reporters that the amnesty would be as broad as possible "in order to draw the line under 20 post-revolutionary years" and to "reset the counter," referring to the anniversary of the 1993 constitutional crisis that shaped the modern Russian Federation.
According to Fedotov, the amnesty will cover convicted women who have underage children, pregnant women, disabled people and veterans of World War II.  According to HR activists the broad amnesty could mean freedom for about a quarter of all Russian prisoners.
Council member Kirill Kabanov said the term "broad amnesty" meant that the amnesty would cover all convicts with some exceptions. If the President approves the draft ordering the release of all those convicted of non-violent crimes this would mean amnesty for participants in the so called Bolotnaya case (about two dozen people who clashed with police during an officially allowed protest rally in May 2012) and also to the members of the Pussy Riot punk band (girls sentenced to prison for aggravated hooliganism for staging a protest stunt inside Moscow's main cathedral in February 2012).
HR Council member Ilya Shablinskiy said the council rejected the suggestion not to apply the amnesty to those sentenced to five years in prison or more. He added that this could mean the release of Mikhail Khodorkovskiy and Platon Lebedev – once Russia's richest oil moguls who are currently serving long prison sentences for large-scale theft, embezzlement and money laundering.
Another member of the body - Yevgeniy Bobrov told the ITAR-TASS news agency that if the draft is approved even those convicted for terrorism could walk free if they had committed no murders.
Russian President's press secretary Dmitry Peskov told reporters that all reports on the amnesty would be considered by the presidential administration as soon as they are submitted. Ilya Shablinsky told reporters that the draft will be finalized and forwarded to the President on Monday.

You can share this story on social media: