Police on alert as Moscow court opens hearings into Bolotnaya case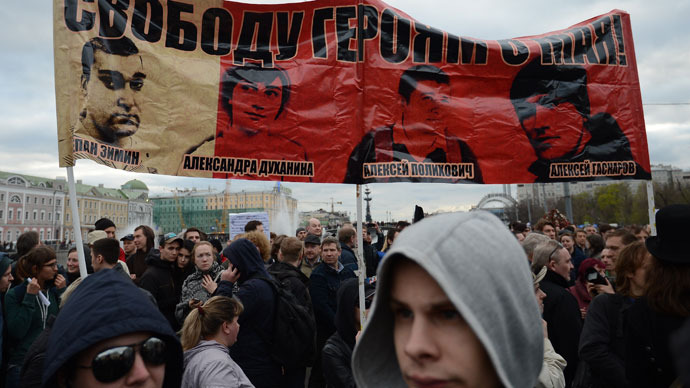 There is a large police presence around the city court where hearings into last year's Bolotnaya Square riots opened on Thursday.
The case is being heard by a district court, but the sessions have been moved to the larger city court building due to the public interest and the need for additional security measures.
The court case involves 12 people who have been charged with inciting and taking part in mass unrest on May 6th 2012, the day before President Vladimir Putin's inauguration.
The sanctioned rally in support of democracy and against alleged violations in the 2011 parliamentary elections turned violent as some of the demonstrators attempted to break through police lines. Defense attorneys and some human rights advocates claim that the police tried to force the protesters into a confined area. Police say they were attacked by rioters who used flagpoles, stones and pieces of asphalt injuring about 40 officers and damaging their riot gear.
In the course of the May 6 riots over 80 policemen sustained injuries and the total damage caused by the clashes is estimated at over 28 million roubles (US$900,000), according to the Prosecutor General's Office.
A representative of the defense team has told the press that they intended to ask the judge to return the case to prosecutors as it was not yet fully prepared for hearings.
On the previous evening several people held single-pickets protests on Moscow's Manezhnaya Square, in front of the Lower House HQ. The protesters held slogans suggesting that the trial of the 12 protesters was politically motivated and accused authorities of repression. More protests were scheduled on Thursday evening.
In a connected case Russian prosecutors charged several leftist activists with plotting and organizing the unrest using money received from foreign sources – in particular, Georgian MP Givi Targamadze. The suspects include Sergey Udaltsov, the head of the unregistered movement Leftist Front, that specializes in street protests. One of Udaltsov's aides, Konstantin Lebedev entered a plea deal and was sentenced to two and a half years in prison in late April this year.
In November last year, one of the Bolotnaya Square rioters -  Maksim Luzyanin - was sentenced to 4.5 years behind bars.
One suspect in the case – Mikhail Kosenko – has been officially recognized as mentally ill and prosecutors now seek his forced treatment, not criminal punishment.
You can share this story on social media: