Prosecutors suspend Leftist Front activities over online fund raising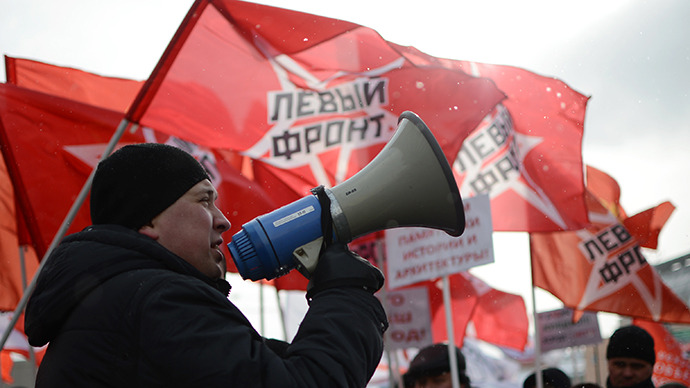 Russian law enforcers have suspended the activities of Sergey Udaltsov's group after it started collecting money online without being registered as a legal entity.
"As of today, the activities of the public union the Leftist Front is suspended for three months, until July 19 2013," reads the statement published by the Moscow Prosecutors' Office.
The agency explained that the Leftist Front web-site regularly published classifieds with requests to send money to persons who were either in pre-trial custody or serving sentences for causing public disturbance. Such activities contradicted the Russian law that allows only registered legal entities to possess property or bank accounts.
Besides, the front was constantly using its emblem – the five-pointed red and white star with a black logo – in its street actions and press and online materials, but the emblem was not officially registered, which is also against the law, the prosecutors said.
After the news was announced Leftist Front leader Sergey Udaltsov wrote on his Twitter feed that the movement was changing its name to the New Leftist Front and the new name will be used until the suspension is lifted.
The radical leftist movement was founded in 2008 and gained notoriety during street protests in Moscow in 2012. The head of the movement and two of his aides are currently on trial over charges of plotting the unrest and using foreign cash to sponsor their plans.
The head of the front – Sergey Udaltsov – is currently under house arrest and two other suspects – Konstantin Lebedev and Leonid Razvozzhayev are in custody.
Russia also put the suspected sponsor of the group – former Georgian MP Givi Targamadze on the international wanted list and sanctioned his arrest in absentia.