Russia charges Georgian politician with plotting mass unrest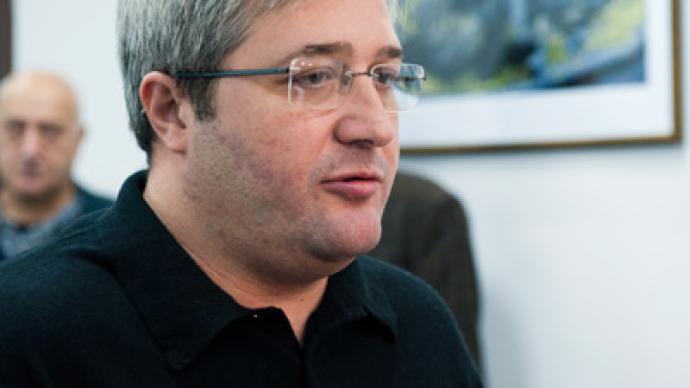 Russia's investigative committee has charged Georgian Givi Tarmagadze with plotting last year's street riots in Moscow and put him on a wanted list.
A spokesman for Russia's main law enforcement body said on Thursday that Targamadze was charged in absentia in the same case with Russians Sergey Udaltsov, Leonid Razvozzhayev and Konsnantin Lebedev. The men are suspected of organizing riots in Moscow on May 6 last year – the day a major march against alleged elections violations ended in violence and several dozen people were arrested for attacking police officers and causing unrest. Razvozzhayev is currently in pre-trial custody and Udaltsov and Lebedev have been put under house arrest. The representative of the Investigative Committee explained that the agency could not press charges against Targamadze earlier because they needed official proof he was not enjoying any kind of immunity from prosecution. Now this issue has been clarified with the Georgian authorities, Targamadze is on the wanted list and investigators will soon go to a Russian court with a request to arrest him in absentia.Georgia's Main Prosecutors' Office said on Thursday that Targamadze's extradition was out of the question as this contradicted the country's constitution.In October 2012 Russian television channel NTV broadcast a documentary in which it alleged Givi Targamadze, who was at that time the head of the defense and security committee of the Georgian Parliament, negotiated the massive anti-Kremlin protests and the payment for them with Udalstsov and others. The Investigative Committee launched a probe into the allegations described in the film and later pressed charges against Udaltsov, Razvozzhayev and Lebedev. Udaltsov and Lebedev insist that they were never plotting riots, but admitted that they had a meeting with some Georgian politicians in the summer of 2012 in the Belarus capital Minsk. In telephone comments to Russian Novaya Gazeta newspaper Targamadze has said that he never talked to any of the activists and though he fully sympathized with the Russian opposition, he never met the three suspects in the case. The politician added that the video of him was possibly real but suggested that the voices in the film were added and blasted the whole piece as propaganda which is not worthy of discussion.However, Razvozzhayev's defense attorney told the press on Thursday that Russian investigators had already questioned Targamadze. However, the lawyer refused to elaborate quoting his professional pledge not to disclose the details of the investigation.
You can share this story on social media: