Putin agrees to head All-Russia People's Front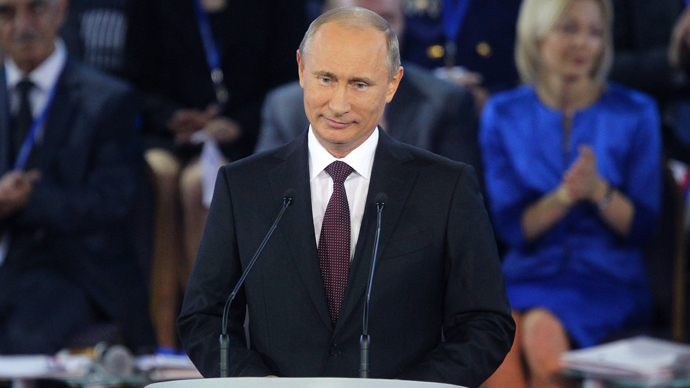 With Russia Day celebrated across the country, President Vladimir Putin has accepted the offer to take charge of the All-Russia People's Front, aimed at promoting dialogue between different political forces in the state.
Putin, who initiated the creation of the Front, has visited the second day of the organization's congress, which took place in central Moscow on June 11-12.

On his arrival, movie director, Stanislav Govorukhin, who led Putin's presidential campaign during last year's election, has asked the president "a stupid question" – if he would agree to head the All-Russia People's Front.

Putin accepted the offer, thanking the audience for "their trust and support" and urging the new movement to really reach an all-Russia scale.   

"It should become a platform where people of different – at first sight, opposing – points of view could get together, discuss the problems and find acceptable means of solving those problems," he said.

According to the president, the All-Russia People's Front will support civil initiatives and volunteering, business and social programs, promote local self-government and make way for new social initiatives and leaders.   

"The aim of the People's Front is to provide every person with a chance to create, to build a great country, a great Russia. We're ready to work with everybody, who shares those ideas and values," Putin explained.

Parliamentarian for the United Russia party, Olga Timoffeeva, head of the Business Russia non-governmental organization, Aleksandr Galushka, and movie director, Stanislav Govorukhin, will execute the duties of the Front's co-chairmen during the next five years.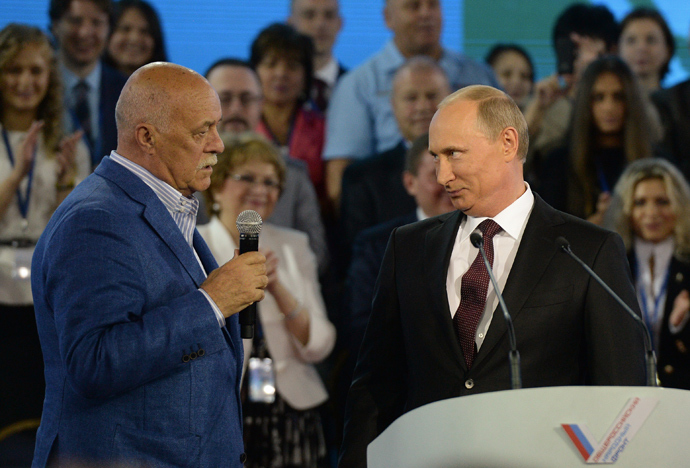 The movement's central staff was also elected at the congress. It'll consist of 55 people, including such figures as Mosfilm studios head, Karen Shakhnazarov, noted pediatrician and surgeon, Leonid Roshal, first female cosmonaut, Valentina Tereshkova, and artistic director of the Mariinsky Theatre, Valery Gergiev.

Among the other members of the organization's executive board are heads of NGOs and non-parliamentary parties, trade union representatives, scientists and World War II veterans.

The charter and manifesto of the All-Russia People's Front was approved on Wednesday and the new social movement has received an official registration. The organizations name was altered as well and, from now on, it'll be called "People's Front – for Russia."

The idea to form the All-Russia People's Front was first voiced in 2011 by then-Prime Minister, Vladimir Putin, in order to provide the United Russia with "new ideas, new suggestions and new faces".

He urged the members of the ruling party to attract NGOs and politically uncommitted people to the process of selecting candidates for the parliamentary election.

The Front was intended to become a non-partisan structure, without any "leading or ruling force" within its ranks.

Later, the concept was upgraded and it was proposed to create a civil movement, which will still keep its non-partisan status.