Pussy Riot lawyers summoned over opposition protest rally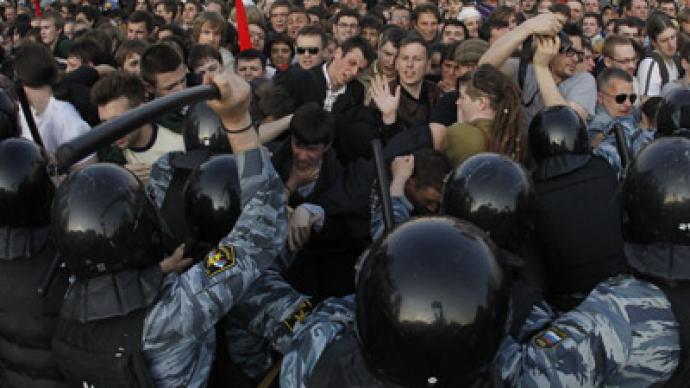 Lawyers for the punk-band Pussy Riot have been summoned for interrogation over their role in May 6 clashes on Moscow's Bolotnaya Square, during the March of Millions protest rally.
Investigators say that lawyer Yelena Lukyanova will be questioned as a witness in the case since she was among the organizers of the protest action held on the eve of Vladimir Putin's inauguration for his third presidential term. According to the spokesman for the Investigative Committee, Vladimir Markin, another advocate for the female band – Mark Feygin – addressed protesters from the stage during the May 6 rally and urged them to join a sit-in in downtown Moscow.The so-called March of Millions was agreed with authorities, but ended with clashes between protesters and the police. Dozens were injured and over 400 people were detained. The opposition claimed police officers were hampering the event, while the police accused the protesters of an intentional provocation.Feygin considers the summons as "pressure" upon him in relation to the Pussy Riot case. "If it really was somehow connected to the events on Bolotnaya square, I would have been summoned to the Investigative Committee in May or June, when opposition activists were interrogated," he told Interfax. The lawyer denied accusations against him and labeled the move as politically motivated, writes RIA Novosti agency. Feygin admitted he addressed the crowd on May 6, but only to try to prevent any clashes between law enforcers and protesters. Feygin said he would go to the interrogation with his colleagues – other lawyers for Pussy Riot – Nikolay Polozov and Violetta Volkova. According to the Investigative Committee, Volkova was also present on Bolotnaya Square on May 6.On October 1, the Moscow City Court will hear an appeal against the two-year sentence handed out to the three young women from the Pussy Riot band last month.
You can share this story on social media: