Finance Ministry seeks punishment for Ponzi scheme participation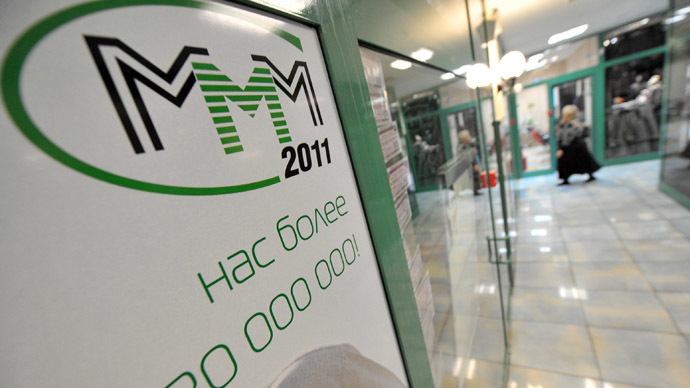 The Russian government is considering a set of amendments to the Criminal Code that establish preventive measures against Ponzi schemes, including jail terms for active participants.
The amendments have been drafted by the Finance Ministry and were submitted to the government at the end of last week, Business daily Kommersant reported, claiming its journalists received the full text of the draft.
The document suggests that the Criminal Code is amended with a separate article called "Illegal activity to obtain monetary funds". Under this article organizers of Ponzi schemes and their active participants (those who attracted over 1.5 million roubles ($46,000)) could face up to seven years in prison. Other participants in the scam and people who promote it could be fined up to 15,000 roubles ($460).
The bill defines a Ponzi scheme (that are called "financial pyramids" in Russian) as "activities to attract monetary funds or other assets from physical persons with repayment of income from earlier attracted funds in cases when organizers are not engaged in investment or any other legal business".  It also reads that such activity poses a great threat to social stability in the country.

So far, only Russia's major law enforcement agency – the Investigative Committee – has voiced an objection to the bill saying that it contradicts the current Civil Code that reads that there can be no restrictions for attracting citizens' means in the form of loans.
Usually Ponzi scheme organizers are charged with fraud, but this could only happen after the scheme crashes and the cheated investors can act as an aggrieved party in court. The new bill allows for preventive measures.
According to law enforcers over 400,000 Russians have been duped by Ponzi schemes since 2008 and the combined losses amount to over 40 billion roubles ($1.25 billion) . The situation was even more dire in the 1990s – back then just one swindler Sergey Mavrodi  managed to defraud 1.5 million people. Mavrodi was put on trial and after a period on the run was put in prison and served a four-and-a-half year term.

He attempted to get back into Ponzi schemes in 2011 and 2012 and this prompted Russian authorities to order a special law preventing such activities.

Currently Mavrodi is again on trial over large-scale fraud, and faces up to 10 years in prison and a fine of up to 1 million roubles (over $31,000).

You can share this story on social media: