Fool me twice, shame on me: Russians fall once again for notorious Ponzi scheme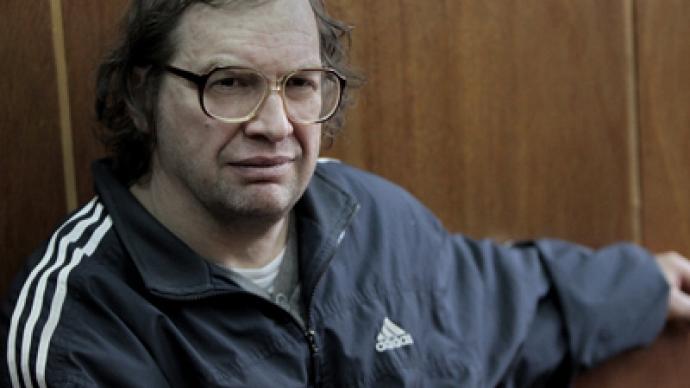 A huge financial pyramid is set to collapse in Russia, leaving thousands of families penniless. This is no surprise – the man running it is the Russian Bernie Madoff – Sergey Mavrodi – an infamous criminal… and a hero to his followers.
The demise of Mavrodi's company, MMM-2011 was easy to predict, after all the convicted fraudster ran a near-identical con in the mid-1990s that duped perhaps as many as one-in-ten Russians. And yet to widespread shock, Mavrodi has managed to trick people all over again.His MMM-2011 website entices investors with interest rates of 40 percent a month, and claims the financial organization has more than 35 million members (the real number is unknown but likely to be significantly smaller). An investor simply has to exchange real money for "shares" and sit back as the dividends roll in. There are also significant bonuses for recruiting new "investors", and the website openly says that new members' funds are used to pay dividends to those who put their money in earlier.In short, MMM-2011 is a classic Ponzi scheme. And there is no attempt to hide the fact.Dogged by legal troubles from its inception last January, rumors have swirled that prosecutors are about to open a case against MMM-2011. In recent weeks, "investors" began to complain that interest was no longer being paid. On Wednesday, the company's Ukrainian offices refused to pay out real money, but where still offering shares in MMM-2011.Early on Thursday, founder Sergey Mavrodi published a home-made video on his blog to address the apparent crash of his pyramid.Outfitted in a sweatshirt, with trademark coke-bottle glasses and ruffled receding hair, Mavrodi sounded calm, as he accused the media of provoking a run on MMM-2011."They have launched claims that there is a case against us. These are all lies! But I understand those who want to withdraw the money – no one has nerves of steel.  No financial institution could have survived this. What can we do? There really has been a panic."Mavrodi then introduced a freeze on all assets, which he says will end in two weeks. Once the system starts working again it will offer lower dividends. He also said he was starting a new financial pyramid, MMM-2012, whose assets will help support the previous pyramid.But Aleksandr Razuvaev, lead analyst for Alpari, a financial services company, says that this is the end."What we are seeing is a refusal to fulfill existing financial obligations, and once the money has been withdrawn from a pyramid, it is unlikely anyone will bring in more money."He explains that just as in all Ponzi schemes, bankruptcy came when the flow of new recruits' money was no longer sufficient to cover the payments for existing members.And for those at the bottom of the pyramid who never benefited, there will be no compensation."If this was a legitimate financial organization, there would instruments for returning at least some of the money, perhaps with government help.But this isn't a legitimate financial organization," sums up Razuvaev.
A different kind of social network
In fact, MMM-2011 is not registered at all.Driven by a website, it operates as a voluntary social network – members privately transfer sums of money between themselves, according to a list of rules compiled by Mavrodi himself. Its shares are classified as gift certificates, and are not traded on any official platform."There is no one you can sue, no one has financial responsibility, and who can trace what thousands of transfers took place," says Razuvaev.Mavrodi himself claims that he has made no financial gain from the pyramid, and that he specifically warns people on his website that though they might win, they could also lose money.But this may not be enough to save him."If I pick up a knife, tell you I am going to kill you, and then stab you, this doesn't relieve me of responsibility for what I have done," said celebrity lawyer Igor Trunov, to the RIA news agency.The police are coming around to the same view.Earlier this week, Kommersant newspaper reported that prosecutors in Moscow filed a preliminary charge of attempted fraud against Mavrodi. Earlier, the police in the eastern city of Novosibirsk revealed a separate accusation of incitement to fraud, after an MMM-2011 investor was arrested for collecting nearly $300 thousand from potential recruits, and taking $60 thousand for himself as reward."Mavrodi assisted the crime by providing advice, free advertising and web resources that assisted the crimes," said an official statement.Mavrodi's lawyers are defiant."Sergey Mavrodi has nothing to do with people collecting money using his name. He is just as happy as anyone when criminals are arrested," says Aleksandr Molokhov, who has defended Mavrodi in numerous previous court battles. He insists it will be impossible to establish any link between Mavrodi and financial misdeeds in court.
Once is unfortunate, twice is careless
More unbelievable than three-digit annual interest rates is the fact that multitudes hope to get rich using the same scheme, under the same name, run by the same man who has already bankrupted millions of Russian families.MMM (a Russian acronym for We Can Do a Lot) burst into the national consciousness in 1993 with a series of adverts showing a working-class family making a meteoric climb up the social ladder thanks to a miraculous investmentThe adverts struck a chord with the newly aspirational post-Soviet society that wanted to get rich, but didn't know how.As reports of huge returns began to filter through, queues lined up outside MMM outlets, giving Mavrodi yet more advertising.A gold rush began.It is estimated that between five and fifteen million Russians invested in the "company".The very picture of a socially awkward Maths professor (he was obsessively interested in numbers since childhood) Mavrodi became one of the unlikeliest success stories, even in the land of financial opportunities that was post-Soviet Russia.He was elected to parliament, married a beauty queen, and after bidding highest at a secret auction, he was allowed to deliver the New Year's Eve address to the nation on one of Russia's major channels.By 1994 MMM collapsed.Mavrodi subsequently became a fugitive, before serving out a four-and-a-half year prison term in the mid 2000s.It is estimated that in its short life MMM stole hundreds of millions of dollars from the people, not to mention those who had their money distributed to the early-adopters. Many of the victims were from the particularly vulnerable social classes – pensioners and workers in bankrupt industrial plants who spent their entire savings on shares in a company that never produced anything of value.Many blamed the success of the original MMM on financial naivety – indeed Russians had never seen a Ponzi scheme before.In 2012, the excuse doesn't wash, and the repeated success of the pyramid has provoked a bout of national soul-searching."Many of his investors see him as Robin Hood. He gives a promise to those who have lost out in modern Russian society that they too can have a piece of the pie," psychologist Olga Makhoskaya told Vzglyad magazine.She says that in his current incarnation Mavrodi is not a con-man, but more the track-suited messiah for a materialistic cult.Significantly, as millions lost their money in 1994, surveys showed that the majority blamed the government for shutting Mavrodi down, and refused to believe that the money was running out.And to many, his prosecution by the authorities, only strengthens his reputation as a truth-seer."Mavrodi has correctly identified the enemies of the common man – it is the government, the banks, the financial system as a whole. It's not like our chances of succeeding with them are any better," says Andrey Bogomolov, who has invested all his funds into MMM- 2011.The original MMM was seen as a national tragedyBut as it repeats the farce, many see MMM-2011 as either an indictment of a hopelessly flawed people prepared to spend their life savings on magic beans, or a social system in which many would rather trust a convicted criminal than a bank.And until there is a better way for Mavrodi's misguided flock, there is every chance we will live to see MMM-2021.
Igor Ogorodnev,RT
You can share this story on social media: