Prokhorov's new venture: Russian billionaire quits business, becomes 'politician only'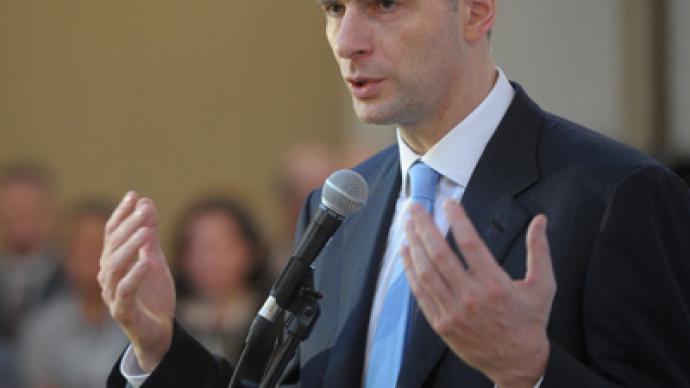 Mikhail Prokhorov has said goodbye to the business world in favor of politics. Joining a party he himself founded, he proposed several striking reforms for Russia, including abolishing the federal division system and introducing a 'Religious Code.'
"I want to tell you a little secret," he told members of his newly formed Civil Platform Party. "I joined the Civil Platform Party too… From now on I will only be involved in politics." Prokhorov added that his business will be run by partners from the Oneksim Group. When asked if he would head the party, Prokhorov did not rule the option out. "It is not me who should answer this question, but rather the political council, in the second part of our gathering we will have elections for the political council, then the council gathers and decides who is going to head the party," he said.The businessman-turned-politician also said that his party is going to form a "federal civil committee," which will include activists from many Russian civil movements, "who are not indifferent to what is going on in our country."Prokhorov proclaimed his Civil Platform a third force in Russian politics, independent of the ruling system and the opposition. He said he was prepared to cooperate with anyone, except for nationalist factions."We have this classic love to divide everything into 'red' and 'white.' Some are with Kremlin, others are with Bolotnaya square and the Opposition Coordination Council. And a third opinion is not welcome," he explained. "I want to have the third opinion and I want both the Kremlin and the Opposition Coordination Council to feel comfortable in our country."Prokhorov announced his intention to form the new party in June, shortly after losing in this year's Russian presidential elections. The Civil Platform Party initially included 500 members – the threshold for political parties to be formally recognized in Russia.According to Prokhorov, the party was created to support nonpartisan leaders of civil society and give them opportunity to be elected. Earlier, the billionaire said that neither he nor the majority of his associates would join the party.
Prokhorov's radical plan for restructuring, geographically and ethically
Speaking at the gathering, Prokhorov described his vision of Russia, urging radical changes to the country's political system and proposing a number of reforms.He proposed that Russia get rid of its present divisions of national regions and republics. He deemed the current system inefficient, and proposed dividing the country "in accordance with economic viability." The former businessman went as far as urging constitutional reform, saying that this new regional scheme may require changes in budgetary planning and the Russian constitution.Prokhorov also criticized Russia's immigration policies, calling for clear system for legalizing and tracking migrants. He proposed an integration system to teach working migrants the Russian language and values.He also touched on questions of religion in his speech. The billionaire called for a 'Religious Code' to replace the old laws of freedom of thought, conscience and religion. The code, Prokhorov said, would reflect new relationships between citizens, the state and the church. Prokhorov is known for his hard-driving political ambitions, and Civil Platform is not his first political venture. Last year, he headed the small-but-established Right Cause Party. However, party veterans ousted him at his very first election convention.Prokhorov also ran in the 2012 presidential elections and came in third, with about 8 percent of the vote.
You can share this story on social media: