Prokhorov eyes Moscow mayor's chair - report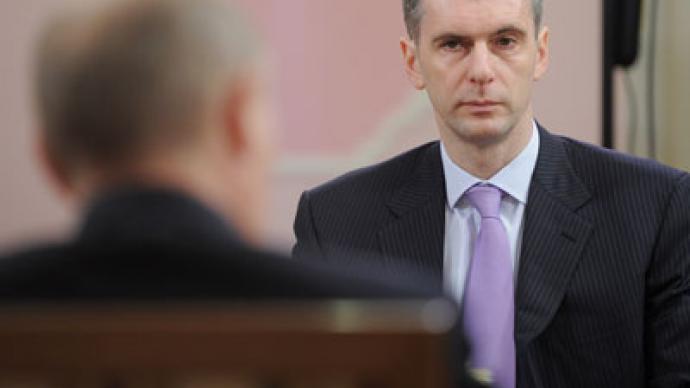 Billionaire Mikhail Prokhorov – who came third in the 2012 presidential race - is reportedly planning to propose his candidacy for the Moscow mayoral election.
The businessman has already made a decision to take part in the vote, Kommersant daily writes on Friday, citing its sources. Prokhorov refused to comment on the issue. However, the paper says it is likely he will make the announcement at a Monday media conference.Moscow's gay activists welcomed the news, because if Prokhorov were to be elected, he would become the first ever Moscow Mayor "friendly" to gay community. During his presidential campaign Prokhorov advocated gay rights and condemned regional laws banning gay propaganda as "illegal," notes GayRussia.ru.On Thursday, the current mayor of the Russian capital, Sergey Sobyanin, suggested amendments to the bill on the elections for Moscow's chief.In particular, the official – whose term of office expires in 2015 – proposed allowing independent candidates to run for the mayoral post. In addition, Sobyanin put forward an idea to reduce the number of signatures a candidate would have to collect from municipal deputies and heads of the city's districts from 10 per cent to 6 per cent. The proposals, though, have yet to be approved by lawmakers. The new law on direct elections of governors – signed earlier in May by then-President Dmitry Medvedev – comes into force on June 1. In 2004, gubernatorial elections were canceled and replaced with a system of direct presidential appointment. Mikhail Prokhorov, 47, first appeared on the Russian political stage only about a year ago. He managed to score third place in the March 4 race for the Kremlin with 7.9 per cent of votes, leaving behind such political heavyweights as LDPR leader Vladimir Zhirinovsky and Fair Russia's Sergey Mironov. Prior to the vote, independent candidate Prokhorov stated he was not ready to consider offers to work in the government in case of his defeat. It was rumored in the media that he had turned down an offer to join Medvedev's government as a Deputy PM. Now, Prokhorov – who had said politics is his long-term project – is focused on the creation of a new party. It is supposed to become "a civil superstructure" based on "non-political principles" and uniting people of different political views, he announced earlier. Later on Friday, a source in Prokhorov's press service told RIA Novosti that "they do not confirm" the information in the media concerning his plans to participate in the battle for the Moscow mayoral post.
You can share this story on social media: