Presidential Property Directorate blasts media charges of corruption as groundless
Published time: 19 May, 2011 09:53
Edited time: 19 May, 2011 15:45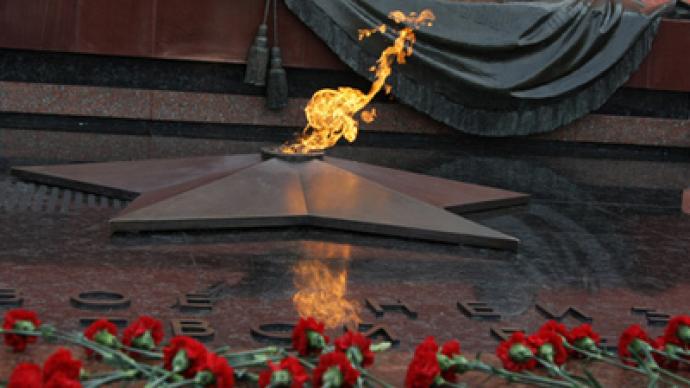 Russia's Presidential Property Directorate has refuted a report by Novaya Gazeta newspaper suggesting that about $3 million was embezzled during the repairs of the Tomb of the Unknown Soldier near the Kremlin wall.
­The official spokesman of the Presidential Property Directorate, Viktor Khrekov, said on Thursday that his agency would sue journalists who blacken its reputation. The newspaper's editor-in-chief, Dmitry Muratov, said that Novaya Gazeta was ready for the process.

In a statement published on its website, the Directorate stated the intention to defend its position and also to use all mechanisms of the law to defend its business reputation, honor and dignity and to bring to justice those who attempt to slander it. The statement said that the events described in the newspaper "not only did not correspond to the reality but also is forming a distorted image about the order and real content of the measures taken to execute an order of the President of Russian Federation."

The statement also accused Novaya Gazeta of using cynical and groundless speculation, mocking and teasing intonations, and of an attempt to gain some cheap political capital while insulting the memory of those who died in the Great Patriotic War, as WWII is known in Russia.
The statement was a reaction to the article entitled "Nothing Sacred, Just Business" that was published in the Sunday issue of the newspaper. According to the article, Novaya Gazeta reporters conducted an investigation and found out that half of the 177 million rubles (over $6 million) allocated for the repairs of the Tomb of the Unknown Soldier was spent on works that had already been finished before the start of the repairs. The authors of the article suggested that 91 million rubles ($3,250,000) was embezzled by certain Kremlin officials.
Novaya Gazeta's editor-in-chief has said that he welcomed the Property Directorate's intention to take the case to court and expressed hope that the process will be open and well-covered. "We hope that the arguments that we use for guidance will be no less serious than the arguments of the Property Directorate," Muratov said.  He also said that his reporters had sent a letter with a number of questions to the Presidential Property Directorate before the material was published, but only received a reply that there will be no answers to the questions. "They can go to court or anywhere they want and I think that our position is flawless," RIA Novosti news agency quoted the editor as saying.

In November 2010, the head of the Presidential Property Directorate won a different court case against a Novaya Gazeta reporter. The court ordered the journalist to pay 100,000 rubles (about $3,500) as damages to the civil servant's reputation, and that the newspaper refute its report about alleged embezzlement in the course of construction in the Russian Olympic site at Sochi, conducted by the Presidential Property Directorate.