State duma: journalists equal policemen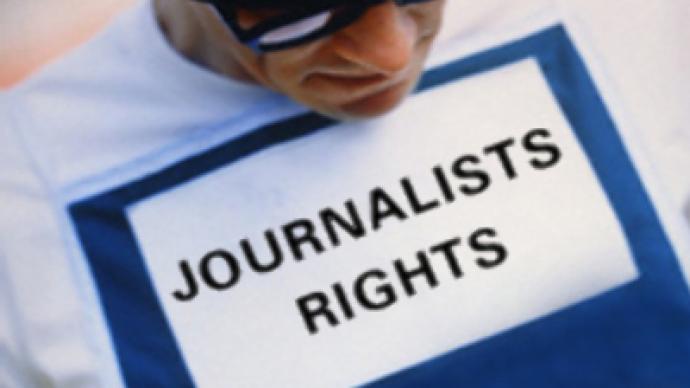 Following the recent string of attacks on journalists, the Russian Public Chamber intends to introduce criminal responsibility for this kind of crime.
Speaking at a meeting of the Public Chamber Commission for communications, information policy and freedom of speech in the media, prominent lawyer and a Public Chamber member Pavel Astakhov said: "If the existing measures are insufficient, there are legal mechanisms to increase responsibility and introduce new measures for the protection of journalists. In this respect, amendments to the Criminal Code could become urgent and topical."
He noted that the Public Chamber doesn't have the right to launch legislative initiatives but added that the Chamber would submit its proposal to an ad hoc Committee of the Russian State Duma, the Russian parliament's lower chamber. Astakhov said that the talk was about amendments introducing responsibility for damage caused to reporters performing their professional duty, including an encroachment on their life, the Interfax news agency reports.
Astakhov said that in compliance with existing Russian laws, a person may get from 12 to 20 years in prison or even a life sentence for encroaching on the lives of justice workers, policemen, government and public figures.
"Encroachment on the life of a journalist, punishable by 12 to 20 years in prison or by a life sentence, is a norm that has been proposed. What makes journalists different from a public figure or an investigator?" Astakhov asked.
According to him, the Russian legislation has an article providing for responsibility for "the impediment of legitimate journalistic activities". However, very few criminal lawsuits have been filed on this charge. At the same time, Astakhov said that every day journalists watch their cameras being smashed. They are beaten up and banned from writing. "In questions related to the protection of the rights of journalists, we've hit all the negative records," Astakhov emphasized.
He added that if a slander campaign in the media might be punished by a three-year imprisonment, the only punishment for attempts to impede legitimate journalistic activities is a fine of up to 80,000 rubles.
It should be noted that Russia occupies a modest 141st place out of 173 countries in the recent freedom of speech ratings of the "Reporters without Borders" international organization alongside with Yemen and Tunisia. "Reporters without Borders" fights against censorship and for the liberation of journalists. Russia was 144th out of 169 countries in the same ratings last year. It ranked 121st in 2002 and 148th in 2003.
In February 2008, "Reporters without Borders" turned to the then presidential candidate Dmitry Medvedev with a request "to create necessary conditions for the promotion of freedoms in Russia", namely to soften laws on extremism and restore the pluralism of opinions on television.
Article translated from www.newsru.com
You can share this story on social media: