Police say Magnitsky death 'not due to any beating'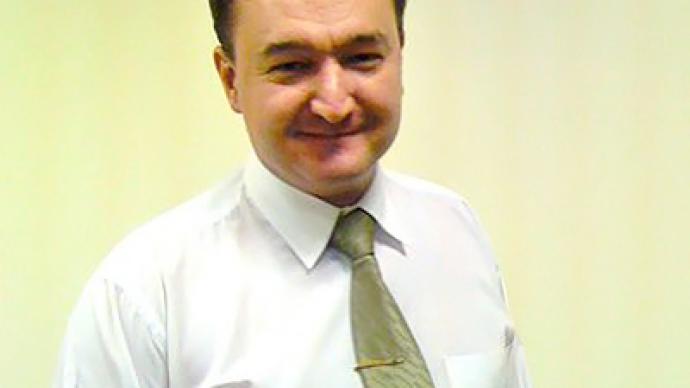 The Investigation Directorate of Russia's Interior Ministry says lawyer Sergey Magnitsky died of heart disease. Officials say the internal check did not confirm claims that the lawyer had been beaten in prison.
Head of directorate Pavel Lapshov said at a Thursday press conference in Moscow that the lawyer's death was not connected with any alleged beatings, hardship or cruel conditions. The official said that forensic expertise described handcuff marks on the deceased inmate's hands and feet, but never confirmed the fact of the beating.The statement was a reply to a report by the Russian Presidential Human Rights Council that said in late November that prison guards had beaten Magnitsky with rubber truncheons and then denied him access to an ambulance, which eventually caused the lawyer's death. Interior Ministry officials said that the council's report was heavily influenced by another document – an investigation by Hermitage Capital, the British investment fund where Magnitsky worked as an auditor. They went on to blast Hermitage Capital's report as biased and untrue. Police said that "almost every page of Hermitage Capital's report went against reality, or the facts mentioned in the report were altered".Head of the Human Rights Council Mikhail Fedotov says the question of Magnitsky's death is still open, and stresses that his organization intends to create a joint working group with the Russian Investigation Committee to ensure public control over this high-profile case.Magnitsky, a 37-year-old lawyer who worked for the major foreign investment fund, died from heart failure in November 2009 while in a Moscow pre-trial detention center. He was being investigated as part of a major tax-evasion case.The lawyer's death caused outrage among the top managers of Hermitage Capital Management Fund. The investors launched a major public campaign in Russia and abroad, accusing certain Russian officials along with the police, Justice Ministry and Tax Ministry, of corruption and embezzlement.Russian authorities charged two prison doctors with manslaughter and criminal negligence and fired them, but dismissed Hermitage's charges of deliberate murder and large-scale corruption as unfounded. Pavel Lapshov also said that Magnitsky had created two tax evasion schemes that allowed Hermitage Capital Management to completely cut out municipal taxes and reduce all income tax payments by half. The schemes involved fake work positions for persons with disabilities, and false investments into the economy of the Russian republic of Kalmykia, which at that time enjoyed offshore status. The police official said that lawyers of the investment fund used counterfeit labor registry books, and that the persons with disabilities mentioned in them did not even know they were working for Hermitage Capital. Sometimes, persons with mental health problems were registered as financial analysts, but investigators established that these people had never worked for the fund and were only used as a screen, Lapshov said. As for the investments in Kalmykia, Lapshov said that some officials in this republic were illegally granting benefits for companies that invested only 1,000 rubles, or about $30.In addition, Russia's Investigation Committee has launched a criminal case against Hermitage Capital's director William Browder, charging him with tax evasion. On Thursday, police officials said that the investigation in this case is nearing completion, and its files will soon be forwarded to court. As Browder currently resides in the UK, his extradition to Russia is impossible; thus, the court hearings will be held in absentia, Interior Ministry officials said.
You can share this story on social media: