UK blacklists Russians over Magnitsky case – report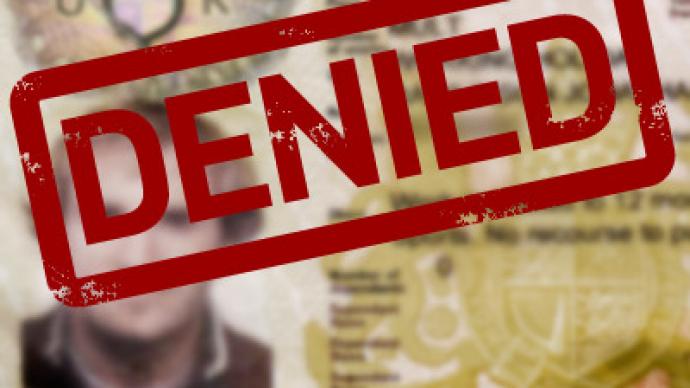 A British newspaper says the UK Foreign Office has issued a visa ban on some 60 Russian officials believed to be connected to the death of investment lawyer and whistle-blower, Sergey Magnitsky.
The news was broken by the Guardian newspaper on Saturday.The paper cited Labor MP and Shadow Justice Minister Chris Bryant as its main source. The politician was reported as saying that UK Immigration Minister Damian Green had told him Britain had blacklisted at least 60 Russian officials allegedly implicated in the death of Sergey Magnitsky – a lawyer workingfor the UK firm Hermitage Capital Fund and who died in a Moscow pre-trial detention center after uncovering what is believed to be the biggest tax fraud in Russian history.An investigation found that his 2009 death from a heart attack was due to him being denied medical attention while in prison.The source of the story, Damian Green, admitted that he had arrived at his conclusions by a process of deduction after conversations with the minister and stressed that the alleged visa ban remained officially secret.The British authorities have neither confirmed nor denied the allegations made in the article.The Russian side have not made any official comment, but deputy head of the Russian State Duma'scommittee on international relations, Leonid Slutskiy, told the media that if such a decision had been made by the UK, then it constituted provocation. The parliamentarian declared that "Magnitsky's death is being used by our enemies as an excuse for a provocation against Russia – they make some virtual lists of some Russian officials that are allegedly complicit in Magnitsky's death and they voice threats to use some virtual sanctions against these officials, etc. But this is only an excuse to initiate the making of some abominable image of Russia, where human rights are violated en masse and almost constantly in the information space."Opinion amongst Russian rights activists is divided. The head of the Presidential Human Rights Council, Mikhail Fedotov, said that blacklists were not an effective method in tackling abuses. "I am a categorical opponent of such diplomatic methods. I think they are not effective. And I think that such methods are a discrimination against the country itself, and do not effectively target the scoundrels who are to blame in Sergey Magnitsky's death," the official told the Interfax news agency.At the same time, the head of the Moscow Helsinki Group, Lyudmila Alekseyeva, said that she welcomed the British visa ban and hoped that European Union countries would follow the example of the United Kingdom and the United States.The US State Department issued a visa ban on Russian officials on the so-called Magnitsky List in July.Russian officials said that they would make a similar list of US officials responsible for the criminal prosecution of Russian citizens such as Viktor Bout, a transport company owner currently on trial over conspiracy to sell weapons to Colombian rebels.Magnitsky, a 37-year-old lawyer for Hermitage Capital Management Fund, was arrested by Russian authorities on charges of alleged tax evasion, and died of a heart attack while in a Moscow pre-trial detention facility on November 16, 2009. The fund maintained that the real reason for his detention was that he had uncovered a multi-million-dollar corruption scheme involving high-ranking state officials. His family and colleagues also claimed he was abused in prison and deliberately denied medical treatment.Russia's Presidential Council for Human Rights and Non-Governmental Organizations held an independent investigation into the case, saying that the head of the pre-trial detention center, together with the investigators who had conducted the probe into allegations of tax fraud, deliberately prevented Magnitsky from receiving medical treatment, namely by refusing to transfer the inmate to a different prison with better conditions and a higher quality of medical facilities.In August, two prison doctors who dealt with Magnitsky went on trial over charges of manslaughter and criminal negligence.On Monday evening the British embassy in Moscow denied that there was a visa ban for Russian officials over Magnitsky's death.The U.K. has made no changes in its government policies, an embassy spokesman told the RIA Novosti news agency.
You can share this story on social media: