Moscow police break up pickets against US adoptions ban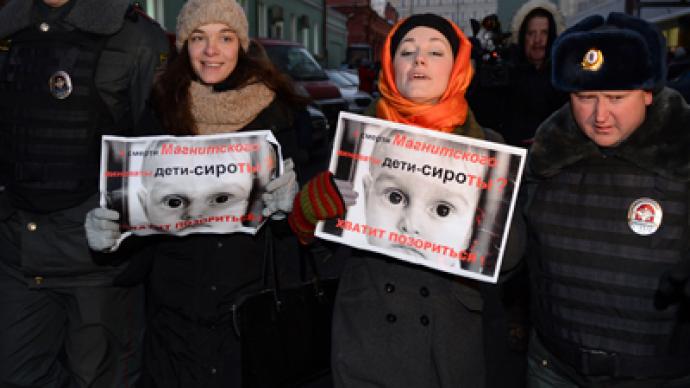 Thirty people were detained near the State Duma as they took part in a picket against legislation that can put an end to the adoption of Russian children by Americans.
Various sources say between 30 and 70 people were part of the protest. The precise number was difficult to establish as they chose a 'single person picket' that does not require a license from the city authorities. Participants were standing a large distance apart holding placards with slogans such as "Set the children free", "The interests of homeless children are more important than the ones of rich criminals", "Give children a chance to live". The police claimed that some of the picketers stood too close together turning the action into a non-sanctioned rally. All of those detained were charged with violation of picket rules – an administrative offence carrying a fine of 30,000 roubles (slightly under $1000). The picket and arrests took place as the Lower House was readying to approve the Dima Yakovlev bill. The document is seen as Russia's reply to the US Magnitsky Act, which imposes a Russian visa ban and assets freeze on Americans who are allegedly complicit in violating the rights of Russian citizens, but on Monday the Russian MPs decided to amend it with a provision that bans US citizens and organizations from adopting Russian orphans. On Wednesday afternoon the amendment was passed with only 17 of the 450 MPs voting against.
The adoption amendments sparked heated debate among Russian society, media and state officials. Prime Minister Medvedev said that everyone in Russia, both officials and society were responsible for the current situation with orphans in Russia. He added that foreign adoptions were a sign of lack of attention to the problem inside the country and urged his party to do everything possible to cope with the problem.The PM said that United Russia must prepare a bill on orphans and added that the country has both funds and people who are ready to work in this field. Earlier in the day, Vladimir Putin's Press Secretary Dmitry Peskov also commented on the parliamentary initiative. Peskov said that the "harsh and emotional" reaction from Russian MPs was understandable but added that the President was inclined to a more reserved opinion. However, "with regard to the well-known anti-Russian manifestations, Russian President Vladimir Putin treats the position of Russian legislators with understanding," Peskov told the press.
You can share this story on social media: