We are the 0.08 percent – opposition elects representatives online
Published time: 23 Oct, 2012 09:29
Edited time: 23 Oct, 2012 18:40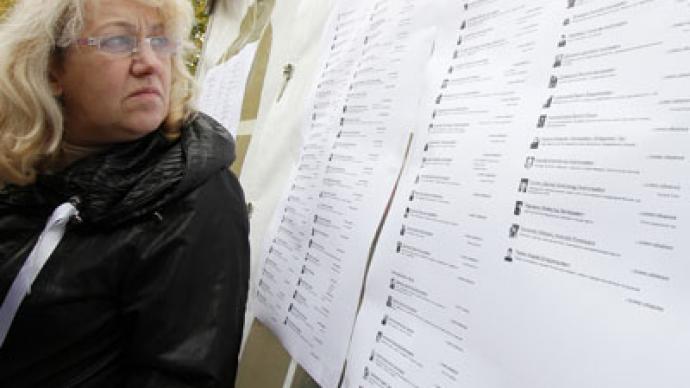 The amorphous Russian opposition that is currently unregistered has finished a series 'primaries' to create a Coordination Council. 81,801 people took part, or just 0.08% of the Russian electorate.
The poll was completely voluntary and anyone who shared the ideals of unofficial opposition could elect the 45 representatives for potential talks with official political parties and state authorities. The elections were mostly held online and candidates and voters were asked to pay a small fee for participation (the money went to cover the organizers' expenses). Offline polling stations were opened in 35 Russian regions and seven more stations were opened abroad but the number of those who chose to vote offline was very small.
After the ballots were counted the 45 elected included such favorites as the anti-corruption blogger Aleksey Navalny, popular writer Dmitry Bykov, TV host and socialite Kseniya Sobchak and green activist Yevgeniya Chirikova. Some of those elected are ordinary politicians who represent political parties and movements including several people from the parliamentary party Fair Russia.
Some of the elected are on trial or on wanted lists, including the leftist politician Sergey Udaltsov suspected of conspiracy to organize mass unrest using foreign sponsors' finances and Leonid Razvozzhayev, an aide to a Fair Russia MP, who is currently in pre-trial custody involved in the same case. Voters also favored the candidacy of young nationalist activist Daniil Konstantinov who is currently on trial for fatally stabbing a man in a street brawl.
The Russian authorities chose to ignore the event that united a miniscule number of citizens. "Today we were busy with the Ukrainian President's visit and did not have an opportunity to follow this election," Vladimir Putin's spokesman, Dmitry Peskov, told the press.The official went on to say that the Kremlin first had to understand who took part in the poll and who won before talking about any possible cooperation.
The elections were not a serious event as only a very small part of the Russian electorate took part says member of the Russian Public Chamber and the head of the Foundation for Research of Problems of Democracy Maksim Grigoriyev. He added that the election, although not formal, was held with a large number of violations and did not match any democratic standards.
"The intent of the youth opposition to call themselves opposition does not correspond to the reality. There are parliamentary opposition parties whose level of support is many thousands times more. No one can possibly suggest that this council represents the interests of the opposition," the political expert stated