Chosen few: Star-studded cast joins race for Russian opposition council seats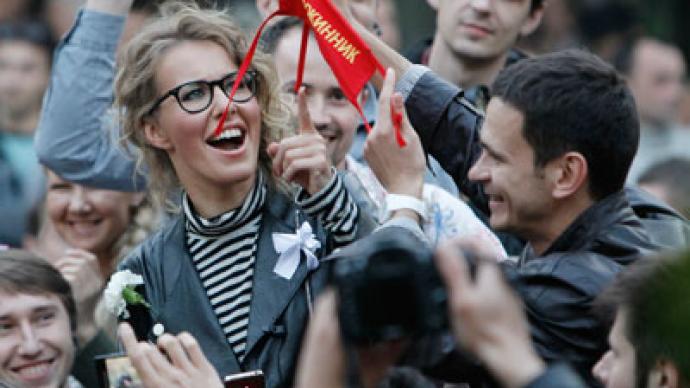 A group of journalists, writers and other celebrities have registered for the joint primaries of the Russian opposition movement, though they claim they are not politicians and are not seeking political power.
In the primary, 45 members to the Coordination Council will be elected to organize future protest rallies and hold general planning for any joint actions by the Russian opposition. Those who registered for the online primaries for the opposition's Coordination Council include former socialite and reality show host Kseniya Sobchak (rumored to be Vladimir Putin's goddaughter), famous writers Dmitry Bykov and Lyudmila Ulitskaya, journalist Filipp Dzyadko, comedians Mikhail Shatz and Tatyana Lazareva, popular blogger Rustem Agadamov, and others.The vote is scheduled for October 21 and 22, and will take place both on the internet and at polling stations throughout the country. More than 160 candidates registered for the election on the group's website. Sobchak announced her participation in the primaries on her blog, and explained the motivations behind the move: "We are not politicians, and none of us considers the fight for political power their personal goal. But we are sure that we, among others, are responsible for keeping the growing standoff between the authorities and the society within the boundaries of non-violence. We will do everything to prevent civil strife."Sobchak also claimed that she and her allies will end the current system where the opposition's activities are limited to "populist gestures and appeals by lonely chieftains," and that they also oppose the current system of "ideological quotas."The opposition's quote system currently in place for various political movements allows for equal representation of all sides of the political spectrum, but also effectively reserves spots in the council for certain persons whose overall popularity is too low to allow them to compete in an open election.The group of artists and celebrities announced their political objective as large-scale political reform that would guarantee free political competition in Russia and therefore the real transfer of power and the rule of law. Mass street protests began in Moscow after last year's parliamentary elections over alleged fraud in the poll results. The demonstrations continued after the presidential election; in spring of this year, one of the rallies ended in violence that led to the arrest of many suspected of provocations and attacks against law enforcers. The latest opposition march took place in Moscow over the past weekend. According to police estimates, some 14,000 people took part – a sizeable decline compared to last winter's rallies, which saw 30,000 to 50,000 participants.
You can share this story on social media: