Opposition gets license for Russia Day rally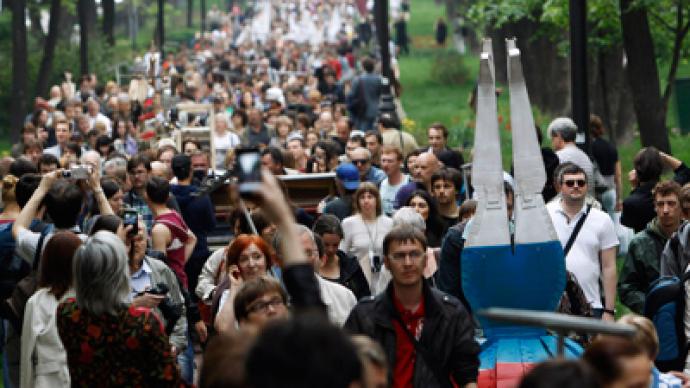 After two weeks of bargaining, Moscow city authorities have eventually allowed a massive opposition rally on Russia Day.
The organizers of the event have told the press that the march will start on Strastnoy Boulevard in the city center and end in Sakharov Prospect. The June 12 event is set to become the first major demonstration after a new law on street protests came into force introducing much harsher punishment for violations of rally rules. The event that the organizers call a March of Millions (or the People's March) will start at 13.00 local time but participants are invited to gather from midday. The end of the event is set at 18.00. According to Ekho Moskvy radio, over 10,000 people have voiced the intention to take part through their social network accounts. Over 18,000 people said they might possibly, but not necessarily join the protest.  In addition, the radio station held a poll, with 92 per cent of listeners saying that people should protest against the new anti-rally law.The known organizers of the march are State Duma deputy Gennady Gudkov of the leftist party Fair Russia, journalist-turned protester Sergey Parkhomenko and non-parliamentary oppositioners Sergey Davidis and Sergey Udaltsov. Initially, opposition planned three rallies on Russia Day, but later decided to unite them into one. The agenda of the protest remains the same – alleged violations at recent parliamentary and presidential elections, but this time the demonstrators also intend to show their discontent with the new law on rallies. The city authorities say they have learned from the experience of May 6 protests and will not dispatch extra police cordons that could block the march. On May 6, clashes between demonstrators and police ended with injuries on the police side and detentions and criminal cases against protesters who attempted to start a riot. The federal authorities have distanced themselves from the Moscow city protests. Vladimir Putin's press secretary Dmitry Peskov says the Kremlin did not interfere in discussing whether the June 12 march should be allowed. "Moscow city authorities decide this themselves as they are responsible for citizens' security in this subject of the Russian Federation," Peskov said.
You can share this story on social media: