Ousted MP seeks means to remain in Duma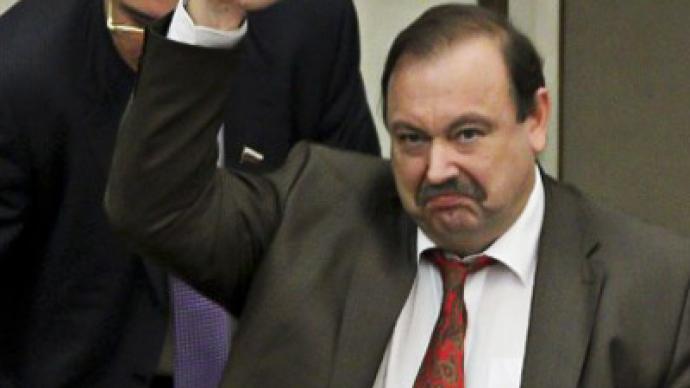 Gennady Gudkov, a member of the opposition Fair Russia party, who recently lost his parliamentary seat for allegedly violating the law that forbids MPs to run a personal business, will remain in the State Duma as an aide or an expert.
Other deputies of Fair Russia have voted to give Gudkov the right to take part in the party's meetings. They also left the ex-parliamentarian the right to vote on the faction's internal issues.The MPs claim that such move is not violating the parliamentary regulations as Gudkov will officially become an aide to one of Fair Russia's MPs. His son Dmitry has written in his internet blog that he had offered his father an aide's position, but did not specify if the elder Gudkov accepted the offer. The leader of Fair Russia, Sergey Mironov, has told the press that Gudkov Snr will become an aide to one of his party comrades, but did not specify the exact name. Russian news site LifeNews has quoted Gudkov as saying that he planned to become an aide to Mironov himself.The post of the aide to a State Duma deputy will give Gudkov access to the State Duma, the right to officially use the MP's office and transport and also in some cases the right to participate in parliamentary sessions. Last week the State Duma voted to expel Gennady Gudkov from its ranks for violating a law that forbids parliamentarians to be involved in commercial activity. The move is unprecedented in Russian history, as the case against Gudkov is at the preliminary investigation stage and thus the Lower House made its own decision, as opposed to approving a request from law enforcers. Gudkov's ousting will not affect the balance of power in the lower house as he was elected on the party list and will simply be replaced by another member of Fair Russia, most likely by economist Nikita Krichevsky.Gennady Gudkov has worked in parliament since 2001. At first he was a member of the majority United Russia party, but parted ways with them after Fair Russia was founded. In December last year he was elected to the State Duma again on Fair Russia's elections list. After the elections Gudkov and the rest of his party voiced protest against the alleged violations that inflated United Russia's participation in the parliament. However they refused to take the protest as far as giving up their seats in the call for election re-run. This year Gudkov participated in street rallies in Moscow held against the same alleged violations at the elections. Some MPs suggested that Gudkov should be ousted from parliament as he was using his immunity and had stirred up tensions, but before this was discussed the Prosecutor General's office presented to the State Duma the materials on Gudkov's illegal business.
You can share this story on social media: