Opposition MP to be expelled from Duma
Published time: 10 Sep, 2012 15:56
Edited time: 10 Sep, 2012 19:56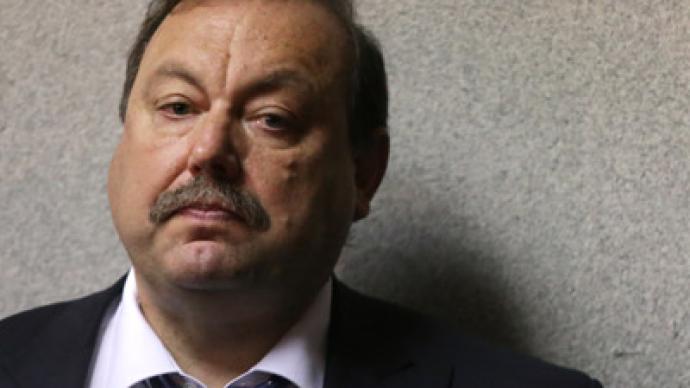 Fierce government critic and member of leftist Fair Russia Party – Gennady Gudkov – may soon be deprived of his position as a deputy for illegally combining lawmaking with his business activity.
The MP is accused of breaking Russian law by being involved in commercial activities in Russia and Bulgaria while serving as a lawmaker.
Earlier in September, Russian Prosecutor General Yury Chaika insisted that Gennady Gudkov be stripped of his post. The Investigative Committee submitted to the State Duma evidence of the MP's alleged failure to follow restrictions imposed by the law on State Duma and Federation Council deputies.
Investigators claim that Gudkov, who has been a member of the parliament since 2001, was still doing business in 2009 and 2012.The check up confirmed the MP was involved in managing a construction company in Bulgaria.
The documents were examined by the State Duma Commission that controls deputies' income declarations. On Monday the commission ruled that there were enough reasons for terminating Gudkov's mandate ahead of schedule. Now all the materials will be forwarded to Duma Speaker Sergey Naryshkin who will then submit the papers for the consideration of the lower house's council and its plenary session.
The voting on the matter may take place as early as September 14, the head of United Russia's faction in the lower house, Andrey Vorobyov told Interfax. The majority party as well as the Liberal-Democratic Party, LDPR, are planning to support the decision to strip Gudkov of his parliamentary powers.
Gudkov denies all the allegations and accused the Kremlin of "political meddling," writes RIA Novosti.
He and his son Dmitry – who is also a State Duma deputy for Fair Russia – have been among leading figures in the mass protests against President Vladimir Putin that swept through the country following the December 4 parliamentary poll.
The leader of Fair Russia, Sergey Mironov, says that stripping Gudkov of his place in the parliament without a court ruling is against the Constitution.

Naryshkin vowed the Duma will consider the issue of Gudkov's mandate impartially, in accordance with the law and the lower house's regulations.