OSCE still uncertain about format of Russian election observer mission
Published time: 23 Jun, 2011 06:20
Edited time: 23 Jun, 2011 12:53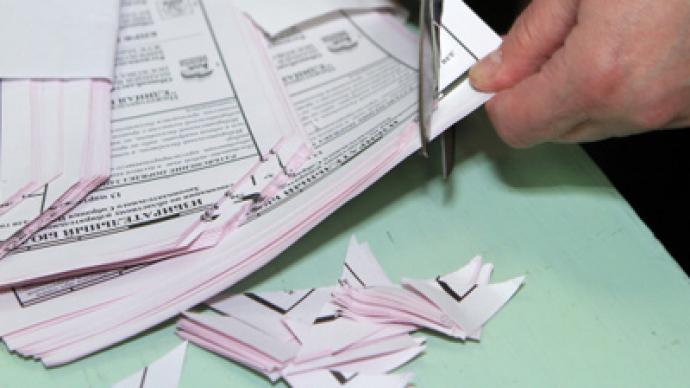 The OSCE Office for Democratic Institutions and Human Rights is not ready to announce the format and timeframe for its observer mission during Russia's parliamentary election this December without a prior assessment of the situation in Russia.
­On its official website, Russia's Central Election Commission (CEC) published a letter from the organization's director Janez Lenarсiс, who says that they might need to send a group of experts to Russia to update earlier recommendations drafted eight years ago. ODIHR observers last visited Russia during the 2003 parliamentary election. Back then, they advised that a standard OSCE mission should start work six weeks before the election and comprise 60 long-term and 400 short-term observers.

In 2007 OSCE representatives refused to monitor the parliamentary election. The organization failed to agree with Moscow on the format of the mission. Russia was ready to accept 70 observers several days before the election, which took place on December 2. The ODIHR, though, insisted on a larger number for a longer term. As a result of the protracted talks, Russia's CEC was only being able to send an invitation to ODIHR in late October. The organization turned the offer down, saying they did not have sufficient time to apply for their visas.   

This time, Russia's CEC preferred not to put the invitation on the back burner. Its head Vladimir Churov asked Janez Lenarсiс to send him proposals "on the format and estimated number of observers". The ODIHR is not currently prepared to respond to his query.   

Lenarсiс asked Russia to accept a small group of ODIHR and PACE experts by mid-August, which would hold a series of meeting with CEC officials, party representatives, members of the public and the media.

"Following expert consultations, I would be pleased to discuss possible observation activities in more detail with you personally, hopefully during my visit to Moscow in September," Janez Lenarсiс wrote in a letter to CEC chairman Vladimir Churov.

Earlier in an interview to Kommersant daily, Churov noted that they have "exceptionally friendly relations" with the ODIHR, but that one of their main concerns regarding the European mission is "the use of double standards".