Civil servant watch: Opposition propose constant video surveillance
Published time: 20 Sep, 2012 13:04
Edited time: 20 Sep, 2012 17:04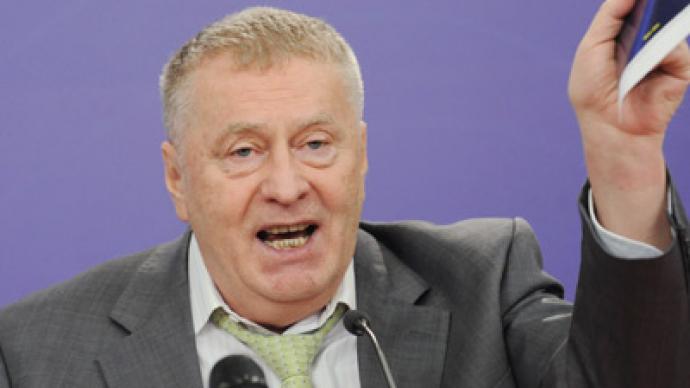 Russia's anti-corruption drive should be boosted by introducing constant video surveillance on officials, limiting their maximum term of service and banning personal meetings with citizens, the leader of the Liberal Democrats said.
Vladimir Zhirinovsky was speaking at the "Open Tribune" meeting, dedicated to future measures to rein in corruption. The politician suggested a small leniency in the planned anti-corruption bill, saying that at the first stage it must be applied only to a narrow circle of officials, not to them all, as there are about 5 million of them in Russia.
He added that the narrowing of the group that falls under control would allow the control to become stricter.
Among the most urgent measures the MP implied that the maximum term of stay in any official post should be limited to 10 years. Another call was to limit the civil servants' communication with the population to email or conventional mail, as ruling out personal contact would seriously hamper bribery on both sides.
Besides, Zhirinovsky suggested that video surveillance be conducted in official's offices and cars, as well as constant monitoring of all their electronic communications.
As a final measure, Zhirinovsky said that the government should introduce a total ban on business people assuming posts in state structures or state-owned companies. He did not specify if this should apply to working entrepreneurs or to all those who have previously tried their hands at business.
Sergey Mironov, the leader of another opposition party – Fair Russia – reminded of his party's previous initiative to introduce confiscation of all property from those convicted of corruption along with the property of their family members. In this connection he also suggested broadening the definition of close relatives to include parents, children, siblings, spouses and grandparents.
The Communist Party suggested that any member of parliament could be checked for business dealings at any time and without an official complaint from the third party. The Liberal Democrats seconded the move.
Accusations of business dealings have recently become a real weapon in Russian politics. Earlier this month, the State Duma voted to deprive a Fair Russia MP of his seat over allegations he was continuing to operate companies in Bulgaria.
Before the vote to oust him took place, MP Gennady Gudkov published documents that allegedly testified to the fact that many other MPs were doing the same thing, including the members of the ruling party, United Russia.
On Thursday the special commission announced that they checked reports on five United Russia MPs and four of them were cleared of charges of running a business while working in the lower house. However, the commission decided to continue the probe into one MPs case and invited him for personal consultations.