Russian universities to top intl rankings by 2020 – Education Minister Livanov to RT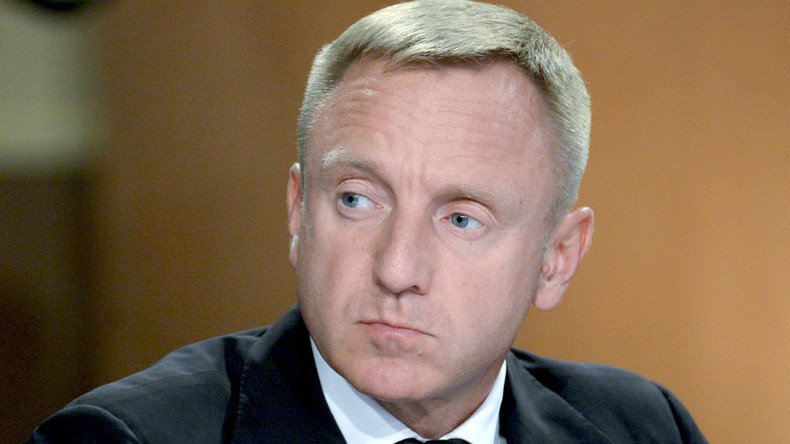 As Russian universities climb up the international education ratings following the launch of the transformative Project 5-100 programme, the Russian Education Minister reflects on what has already been done while setting ambitious new goals.
RT: Thank you for meeting with us, Mr Livanov. We know that nine Russian universities made it into the Round University Ranking top 200 in the teaching category. And most of them have improved their key performance indicators when compared with the previous year. What is the reason for the improvement?
Dmitry Livanov: We've been implementing a special programme to make our universities competitive at the international level. The main goal is to make sure that by 2020 five schools make it to the top 100 in the international rankings. The programme has been underway for over two years now, and some progress can already be seen. Our leading universities began to focus more on research, inviting foreign professors as well as enrolling international students. They are making advances in all areas. Ratings reflect all this, but the position of a university in international ratings is not the only criterion of success. We also want to improve the reputation of our schools so that they become known internationally. Our goal is for our university research programs to become internationally recognised.
RT: What do you think about these ranking systems? We are used to thinking that Russia has one of the best education systems in the world. But our universities are not ranked very highly on the international scale. Why do you think that is?
DL: The Soviet education system that we had up until the 1990s was one of the best in the world, that's true. But unfortunately after that – in the 1990s and 2000s – the quality went down due to budget cuts and other factors such as the wave of private schools that often didn't meet our standards. This situation is changing now. We have higher standards and requirements for our state and private universities. Unfortunately, not all the schools are able to meet those requirements. So there are now fewer universities, but our goal is to get back to the standards of higher education which we had during the Soviet era. Back then it was not easy to get into a university and only the best and most capable high school graduates were able to do so. Curricula were very challenging and efficient at preparing college graduates for their professional life. And also like I said already – our universities need to step up their research programs.
RT:Tell us more about Project 5-100
DL: I already mentioned it.Project 5-100 is our attempt at making our universities more competitive internationally. Fifteen universities were initially involved in the project, and recently we added six more. So there are 21 of them now. We think that the intermediate results are quite good. The universities have improved their overall performance and are ranked more highly.It is important to make sure that the trend continues and we see progress every year.
RT: Part of the project was helping international students adjust to Russian universities. What is the main challenge here?
DL: Very often foreign students don't know much about our culture and everyday life in Russia. There is also a language barrier – international students don't speak Russian. That presents a challenge, because in most schools all classes are taught in Russian, and of course they need to know the language to get around. So we have special adjustment programs for these students that include Russian-as-a-foreign-language courses. This is a prerequisite to their further education, classes that they will be taking together with native Russian speakers. Also many of our universities now offer courses in English. Of course, these programs only make sense if they are done professionally, taught by world-class faculty members with fluent English. But it is a trend that we have and plan to expand.
RT: What are the reasons why foreign students pick Russian universities?
DL: I think that many foreign students, especially those who come from the Russian communities abroad and the CIS countries, want to study in Russia because it offers good career prospects. Many of them see themselves applying their professional knowledge and skills in our country. Currently a new trend has emerged: we see an increase in the number of students from countries outside the CIS – from Asia, Europe and the US. Our universities' growing appeal and the quality of education they provide naturally results in a growing number of foreign students.
RT: Have the sanctions and the information war against Russia somehow affected the interest that foreign students display in coming to Russia to study? Have their numbers decreased?
DL: No. In fact, we're seeing a completely opposite trend. With every year, the number of foreign students is growing steadily, and that includes the last two years. Currently there are about 300,000 foreigners studying in Russia. It is an unprecedentedly high number.
RT: How would you assess Russia's progress in terms of children of migrants adapting to their new life when it comes to education? Do you think Russia can share its experience with other countries, particularly the EU in light of the refugee crisis it is facing?
DL: It's true that our country had to deal with the migrant issue long before many European countries, so we have good, effective social and pedagogical methods that help the children of migrants to adapt. We guarantee equal rights to education for every child on the Russian territory, regardless of their citizenship. Of course, that also means that those children need certain preparation so that they can study in Russian schools, because in many cases Russian is not their native language and they don't know it. There are special courses that teach Russian to the children of migrants. In a short period of time – from a couple of weeks to a couple of months, depending on how well they know Russian when they start out – children get the preparation they need to attend the same schools and take the same classes as their Russian peers.
RT: Please tell us more about the university mergers in Russia – is this process going to continue?
DL: We don't have any particular numbers in mind for university mergers, but due to demographic reasons the number of students is decreasing. A couple of years ago about 1.2 million children graduated high school annually, these days it's only half as many, about 650,000. Many universities that don't attract a lot of students run the risk of getting no enrollments at all. This prompts the universities to merge. As a rule, the universities that are not very prestigious want to become a part of a more prestigious and successful school. We support these projects, but only if the universities in question decide to merge of their own free will and if the merger is in the interests of both students and faculty.
RT: Nowadays we see so-called core universities appearing in Russia. Could you please elaborate on what role they play and what their purpose is?
DL: We started implementing a program aimed at supporting the core universities, that is, the consolidated universities that appear after the merger of several universities of a regional level. Mergers make sense in areas where no university holds strong positions, for example, there isn't a university of a federal level or a national research university, and the high school graduates leave the region to go to college somewhere else. It impoverishes such places, cities and towns, and we find it very important that every big city should provide the opportunity of getting high-quality tertiary education. In a number of cases merging the universities that already exist in the area is a sensible course of action. It helps to consolidate both material and intellectual assets, and offers the students a better, more interesting curriculum. Such a university would hold a greater appeal for high school graduates living in the area.
RT: Mr Livanov, thank you very much.
You can share this story on social media: