Moscow State University ranks 25th among world's top institutions
Published time: 12 Mar, 2015 23:30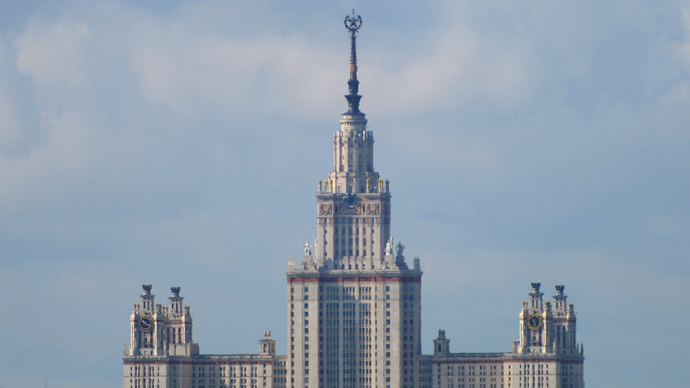 Lomonosov Moscow State University has grabbed 25th place in the Times Higher Education (THE) ranking of the world's top educational institutions for 2015. St. Petersburg State University also made it into the top 100.
It is the highest position that Moscow State University (MSU) has ever been awarded in the World Reputation Rankings since the London-based Times Higher Education magazine started the list in 2011.

St. Petersburg State University – the oldest higher education institution in the country – broke into the 71-80 group for the first time.

"We have been working very hard in order to distribute the survey more equally around the world, and we are delighted that we hit our target on responses from Russia this year," rankings editor Phil Baty said in an interview with TASS.
Moscow State University pic.twitter.com/cLoiVYEJUB

— NProperty (@property_0) March 12, 2015
"We have seen improvements on both institutions. We have seen the Moscow State in particular making dramatic improvements, investing heavily in building a technological city, and we have a big increased focus in Russia in making universities global, more visible in the global stage."

MSU rector Viktor Sadovnichy hopes the new ranking will help attract more students.

"Undoubtedly, it is a big success. For the first time ever, [Moscow State University] has been ranked so high – although our positions in authoritative ratings [such as] Shanghai, QS and others – have been rather high. We have come close to the leaders on top positions," he said.
Moscow State University works on it's own #VR device with gloves! https://t.co/xI2szQgcVQ

— ViRealism (@virealism) February 28, 2015
The top five positions were taken by Harvard University, University of Cambridge, University of Oxford, Massachusetts Institute of Technology and Stanford University.

The annual rating is based on the judgments of senior published scholars, said Bety, adding that "it is a subjective survey of academic opinion."