Heads roll at top mag over obscene anti-Putin pic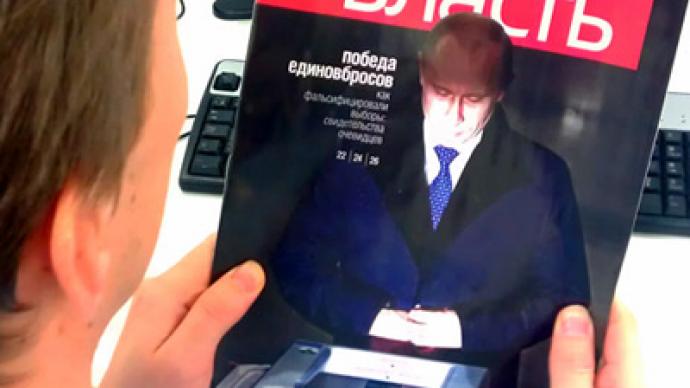 The owner of the major Russian media holding Kommersant has fired two senior executives for for publishing controversial images as illustrations for an article on recent parliamentary elections.
Billionaire Alisher Usmanov, fired Maksim Kovalskiy, the chief editor of the political weekly Kommersant-Vlast, and Andrey Galiyev, the general director of the Kommersant-Holding company. The sacking happened after the weekly published a photo of a ballot on which one of the voters wrote extremely strong obscenities addressed to Prime Minister Putin. The photo was used as an illustration to the article that covered the way the recent parliamentary elections were conducted at polling stations abroad. Besides, the title of the article was a play on words that suggested some obscene connotations and one of the illustrations was a photo.
Usmanov himself said that publishing such illustrations was "bordering on petty hooliganism." He added that he could sue Kovalskiy for publishing these articles, but did not specify what materials he was talking about.The General Director of the Kommersant Publishing House Damian Kudryavtsev apologized for the incident through his blog and also submitted his resignation from his post. He said that the publishing house never allowed obscenities on its pages and he was ready to bear responsibility for the blunder. Kudryavtsev's resignation was not accepted.Kovalskiy, on the other hand, said that he did not regret what happened. "I rather would not discuss if my sacking was deserved or not, but I have a firm confidence that I did everything right and I do not regret that the magazine's last issue was what it was," Kovalskiy said in an interview with the Interfax news agency. He added, though, that he had headed the magazine for the last 12 years and was not happy that he had to leave.The scandal caused much discussion in Russian media circles as people saw it as a possible sign of internal censorship introduced by media owners. However, a source close to Usmanov told the RIA-Novosti news agency that the real reason lied in the sphere of business ethics and not in politics."The true reason is in this photo. If the publishing holding's owner intended to meddle with its activities he would do it earlier. An active election campaign is under way. Kommersant and all its editions criticized United Russia party and authorities in general for quite a long time. No one can remand Kommersant for one-sided coverage of the elections campaign. It was the publishing of a photo with an obscene expression is the main reason and not the materials," the unnamed source said.Billionaire Mikhail Prokhorov, who only on Monday said he was returning to Russian politics by taking part in the presidential race, said he suggested buying Kommersant from Usmanov. Usmanov confirmed that Prokhorov had addressed him with a request to sell him the Kommersant holding and said that he perceived the offer as a joke. Usmanov added that in reply he invited Prokhorov to sell him the major Russian media company RBC.Former Kommersant owner Boris Berezovsky, who now lives in Britain and faces charges of major embezzlement in Russia, said he was ready to help the fired media managers with new employment "when he returns to Russia in Spring."