Obama, Saakashvili and a telling slip of the tongue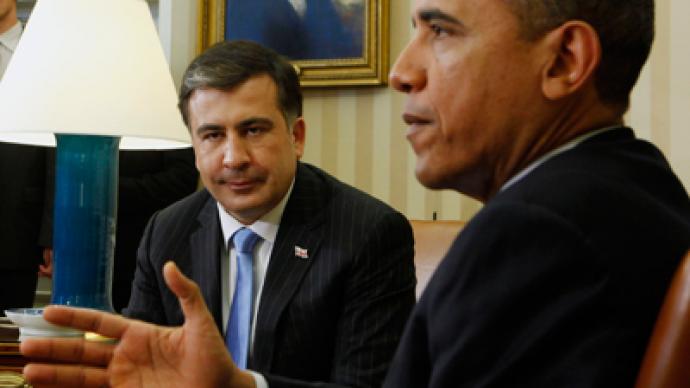 Political pundits can only imagine what was really discussed in a meeting between US President Barack Obama and his Georgian counterpart, Mikhail Saakashvili, but a slip of the tongue on the part of the American leader provided some clues.
America's Commander-in-Speech is blessed with a golden tongue, a fine speechwriter and a state-of-the-art teleprompter machine. All of this has the effect of making his words flow like milk and honey to mesmerized audiences.However, during a press conference with Georgian President Mikhail Saakashvili in the White House on Monday, Obama had a rare slip of the tongue that revealed far more than anything that was properly articulated."One of the first things that I did was to express my appreciation for the institution building that's been taking place in Russia," Obama declared, before quickly correcting himself. "Er, in Georgia…"Then, after speaking about the possibility of a free trade agreement with Georgia, Obama held out the golden bait of NATO membership to Saakashvili."We talked about how we will strengthen our defense cooperation," Obama said. "I reaffirmed to the president and assured him that the United States will continue to support Georgia's aspirations for ultimately becoming a member of NATO."
A plan for Iran?
As the Western media proceed with a carpet-bombing campaign to condition its war-weary readers to the likelihood of a conflict in Iran, rumors are growing that Saakashvili's fiefdom will play some sort of supporting role in what promises – at least hypothetically – to be a very nasty conflict.According to Elizbar Javelidze, a member of the Georgian opposition movement Public Assembly, the United States is facilitating the construction of medical facilities in Georgia as it prepares for a military conflict in Iran."These are 20-bed hospitals…It's an American project. A big war between the US and Iran is beginning in the Persian Gulf. US $5 million was allocated for the construction of these 20-bed military hospitals," Elizbar Javelidze said in an interview with the Georgian paper Kviris Kronika (News of the Week), as cited by News Georgia website.Javelidze alleges that the wide-scale construction project is largely being paid for by American dollars.In addition to the hospitals, airports are also rapidly being built in the Caucasian country, amid speculation that a port for submarines is slated for Kulevi, located on the eastern Black Sea coast of the country.Javelidze believes the extensive projects must be linked to the deployment of US military bases on Georgian soil. The Georgian opposition member mentioned "Lazika," a new city that will be built from scratch and which has been described as one of Saakashvili's mega-projects, will serve as "an American military town."Meanwhile, former Georgian leader Eduard Shevardnadze believes that Saakashvili, in an effort to retain his presidential post, may draw the country into a war against Iran."I don't rule out that to retain the [presidential] chair Saakashvili may join a military campaign against Iran, which would become a catastrophe for our country," Shevardnadze said, as cited by "Georgia on-line" news portal.Shevardnadze speculated the issue may have been a subject of discussion during the White House meeting between the American and Georgian leaders.A Georgian expert on the Caucasus, Mamuka Areshidze, says that if a military operation against the Islamic Republic begins, Georgia would face extreme difficulties, Regnum agency reports."According to some estimates, in this conflict Georgia would be responsible for providing combat service support with the use of its aerodromes and hospitals," he said. The expert added that such a scenario would lead to certain threats for Georgia. "There would only be negative consequences. But all that is secondary compared to the measures that Russia might take."Whatever the case may be, it is clear that the United States is playing a game of very high stakes in the region, with a political leader who has already proven that he cannot be trusted to work on behalf of peace with Russia.Robert Bridge, RT
You can share this story on social media: