North Korean nukes: Testing Washington's resolve?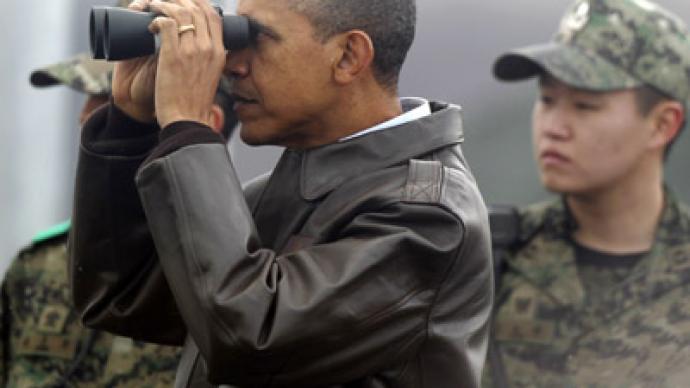 Russian political experts are discussing whether Pyongyang's provocative nuclear test will earn the isolated communist regime another round of economic sanctions, or a negotiating chip in a bid for security guarantees.
While admitting that North Korea's nuclear test has dealt a major blow to international efforts on the Korean Peninsula, Pyongyang may be "seeking a political bargain with Washington, a swap of abandoned nuclear ambitions for security guarantees from the United States," Vyacheslav Nikonov, Duma International Affairs Committee First Deputy Chairman, told Interfax on Tuesday. 
"Probably, North Korea is eyeing this option, but Washington is not ready and not willing to raise the question," Nikonov suggested. 
The leading Russian politician and analyst said Pyongyang's nuclear test "has political significance for the North Korean administration, which wishes to win the attention of Washington." 
Nikonov lamented that Russia is in such close proximity to North Korea's testing zone.
"The situation on the Korean Peninsula is rather difficult, and it is disturbing that the tests are being conducted on a border close to ours."
Preliminary results indicate that Pyongyang's underground nuclear test, which the US Geological Survey registered as a "5.1 magnitude earthquake," was more powerful than the previous two tests conducted by the Democratic People's Republic of Korea (DPRK) in 2006 and 2009.
Meanwhile, as regional tensions continue to simmer following the blast, Russian and US diplomats are keeping an open line of communication between themselves. 
Russian Deputy Foreign Minister Igor Morgulov and US Special Representative for North Korea Policy Glyn Davies discussed the situation on the Korean Peninsula following Pyongyang's nuclear tests, the Russian Foreign Ministry said in a statement. 
Sanctions or security?
The nuclear test conducted by North Korea, in blatant defiance of an international ban, will possibly lead to a new round of sanctions, Alexander Vorontsov, head of the Korea and Mongolia department at the Russian Academy of Science's Oriental Studies Institute told reporters on Tuesday.
"Attempts to make the DPRK (halt nuclear tests) with warnings and sanctions has not been very successful," Vorontsov pointed out.

To further complicate the situation, the academician indicated that "anti-North Korean sentiments are rather strong in the United States," which continues to search for a solution to the standoff on the Korean Peninsula "through the prism of stricter sanctions and larger military-political pressure," Vorontsov said.
Hence, new (sanctions) look inevitable, he added.
Vorontsov, however, echoing Nikonov's argument, also suggested that North Korea may be looking for security guarantees from Washington.
"The DPRK has described its idea of security parameters more than once, primarily as a means towards the normalization (of relations) with the United States," he noted. In such an event, there would need to exist negotiations between the US and Pyongyang in which North Korea would receive "real security guarantees."
However, it seems that not only Washington has grown weary of attempting to negotiate with the Pyongyang.
Franz Klintsevich, Duma Defense Committee Deputy Chairman is calling for UN-sponsored economic sanctions to be imposed against North Korea.  
"I am confident that the UN Security Council will evaluate the latest nuclear test conducted by North Korea," Klintsevich, of United Russia, told reporters. "Personally, I would support strict economic sanctions against the country which continues to obstruct international monitoring (of its nuclear sites)." 
Klintsevich noted that while North Korea issued an early test notification to South Korea and Japan, it did not extend the same courtesy to Russia, which shares a common border with the communist country.  
"That is a very serious factor but I am confident that our armed forces can intercept a North Korean missile in the case of an unsuccessful launch and nothing endangers our country," the deputy said.  
The United Russia parliamentarian noted that General Staff Chief Valery Gerasimov will speak at a closed-door meeting of the State Duma Defense Committee on Wednesday. 
"I think North Korea will be an item on the agenda," he said. 
Nuclear fallout?
Meanwhile, Russian nuclear experts are assuring that the test blast, which was monitored by seismic equipment designed to detect earthquakes, does not present any immediate danger to the environment.
The nuclear blast occurred one kilometer underground, and no increase in radiation levels have been detected, according to Roshydromet, the Federal Service for Hydrometeorology and Environmental Monitoring.  
"If any discharge or abnormal situation had occurred it would have been noticed," Yuri Varakin, the head of Roshydromet told reporters on Tuesday. "Tests are conducted underground to prevent atmospheric discharges and contamination." 
Varakin said the wind was blowing towards the Chinese border at the time of detonation and would change direction towards South Korea during the day. 
"Nothing is heading towards us," the analyst emphasized.