LGBT community takes legal steps against main sponsor of 'sex propaganda bill'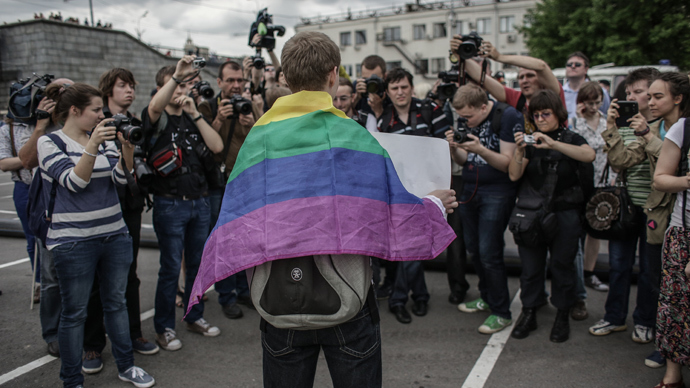 Russian LGBT activists have addressed the Prosecutor General's office claiming MP Elena Mizulina and the recently approved bill on 'propaganda of non-traditional sexual relations to minors' promote hatred towards gays.
The news was announced by Nikolay Alekseyev, one of the leaders of Russian LGBT community, in an interview with the popular daily Izvestia. Alekseyev gave no details on who submitted the complaint or when it was done.
"Mizulina should be jailed for infringing minorities' rights and inciting hatred for those who have non-traditional orientation. Millions of people suffer because of her actions," Alekseyev told the newspaper.
Yelena Mizulina chairs the Lower House Committee for Children, Women and Family. She is one of the main sponsors of the controversial bill and has repeatedly defended it in the mass media.
"Our bill has a very particular objective – to put a barrier between children and illegal information. People are not annoyed by gays, they are annoyed by unsolicited and emphatic promotion, by propaganda," Mizulina told the press.
The State Duma last week passed the bill, introducing heavy fines for propaganda of non-traditional sex relations to minors. Initially the bill banned gay propaganda, but the formula was changed before the final reading after gay activists and human rights campaigners repeatedly noted that direct mentioning of gays was discriminatory.
However, the current draft stretches the definition of propaganda as far as "promoting the distorted understanding of social equality of traditional and non-traditional sex relations." Some Russian mass media and public figures have already noted that this can only be understood as a ban on tolerance.
The bill is yet to be approved by the Upper House and signed by the president to come into force.
LGBT activists held protests against the bill on all days of hearings (and on the days when the hearings were scheduled, but postponed) and every time these protests ended in clashes with the bill's supporters and in eventual detentions. However, the number of protesters and their opponents never exceeded a few dozen.
As the ban on non-traditional sex propaganda was passed by the Duma it received critical comments from German Chancellor Angela Merkel, who said through her government representative that the bill contradicted the European Convention on Human Rights.
The official said that German cabinet still hoped that the bill banning the propaganda of non-traditional sex would be canceled.
The head of Russian parliamentary committee for international relations, Aleksey Pushkov, promised there would be no reaction to the German Chancellor's call.
"This call will not be heard. An acute conflict of values is looming" Pushkov tweeted.