Pyongyang enraged by new South Korean war games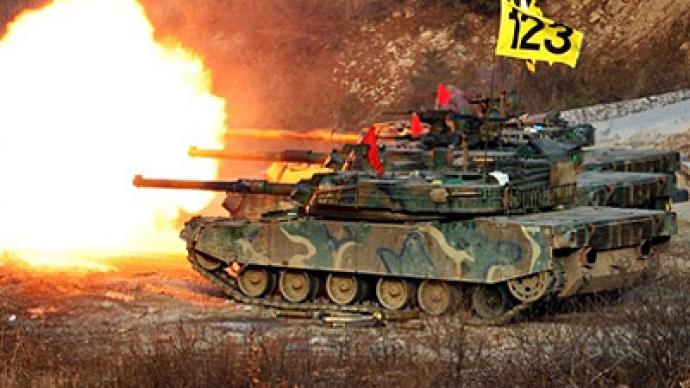 Russia says it will continue its diplomatic efforts to help ease the tense situation on the Korean peninsula. However, a new series of South Korean war games on Thursday has only fueled the conflict between the two Koreas.
­During the military exercises South Korean fighter jets dropped bombs and tanks fired artillery at training grounds in mountainous Pocheon about 30 kilometers from the Koreas' heavily fortified border.

The South's largest air and ground firing drills of the year lasted for 40 minutes.

Seoul is also holding four-day naval exercises which started on December 22.

The war games are in response to shelling from the North that killed four people and injured 20 last month.

The United States, Seoul's long-standing ally, has backed the drills. While Pyongyang has criticized the "South Korean puppet warmongers" for provoking a war.

South Korea insists it is just exercising its right to defend itself.

"My understanding is that [the drill] is one of the exercises taking place regularly, and that it is taking place pretty far away from North Korea," said Kim Young-sun, the South Korean foreign ministry spokesman.

On Sunday, the UN Security Council had an emergency meeting initiated by Russia. But despite that, South Korea carried out live-fire military exercises on an island close to the border with North Korea.

Although Pyongyang did not retaliate, it called the move "a reckless military provocation".

Commenting on the situation on the Korean peninsula during a news conference in Beijing, the Russian Ambassador to China, Sergey Razov, said that such a "reserved reaction" from the North means that the tension has passed "the critical stage".

"This does not mean of course that we can calm down and do nothing, awaiting further developments, our diplomacy will be taking all efforts to settle the conflict," he said.

However, North Korea's reaction to Thursday's move has been much less reserved, with the North Korean armed forces minister calling for a "holy war" against the South.

Moscow does not approve of South Korean military drills and has been pushing for their cancellation at the UN, saying they would only aggravate the crisis.