Russian Navy chief concerned about growing tensions in the Arctic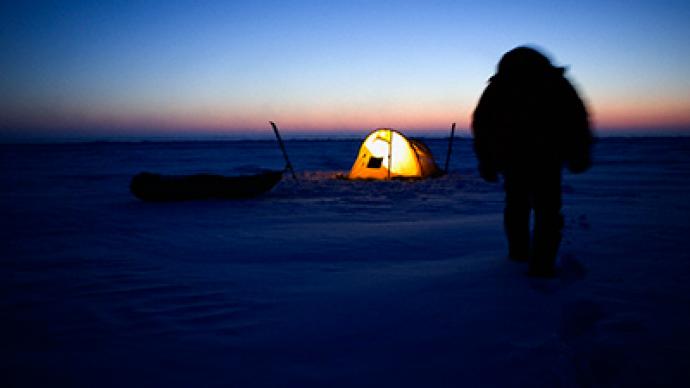 Russia is concerned about the growing activity of NATO and certain East Asian nations in the Arctic region, Vladimir Vysotskiy, the Navy Commander-in-Chief, has said.
The Russian Navy commander was speaking on Wednesday before the Marine Collegium of the Russian Government. "A broad spectrum of challenges and threats that can negatively affect the economic component of Russia's interests is concentrated in the Arctic," Russian news agencies quoted Vysotskiy as saying.  The commander also said that Russia already possessed confirmation of the fact that NATO had marked the Arctic as a zone correlating to its strategic interests. He added that NATO actions in the region were taking on a systematic character.Visotsky noted that apart from NATO member-countries, certain East Asian nations were going to defend their interests in the Arctic. He said that such countries as Japan, China and South Korea had already demonstrated such intentions, but added that "such well-known Arctic countries as Malaysia and Thailand" were also showing interest in benefitting from the Arctic region's development.  The commander assured the government collegium that Russia was developing its forces and infrastructure in the Arctic zone and conducting regular sea patrols there. Apart from that, the military plans to deploy more special operations units to the region, which spurred the commander to request the government sanction the construction of navy bases in the Arctic ports of Dikson, Tiksi and Pevek. At the same session of the Collegium, Deputy Prime Minister Sergey Ivanov said that Russia will file an application to enlarge the borders of its Arctic shelf to the relevant commission of the United Nations in 2012. He said that it will be a "normal, scientifically based application" and added that the second expedition, which will be conducted to solidify Russian claims on the Arctic shelf, would start within the next few days.  The official said that the second expedition was better furnished than the first one and researchers now had all the necessary equipment to prove that the so called Lomonosov Ridge was a part of the continental shelf. After ratifying the UN convention on the Law of the Sea in 1997, Russia laid its claim to the Arctic seabed in 2001, but the UN said its assertion was not substantiated by scientific evidence.   In 2007, Russian Arctic researchers planted the Russian flag on the seabed below the North Pole to show that the continental shelf, which they say should be considered a part of Russian territory, stretched much longer than the common 200 nautical miles accorded to each country in concurrence with International Maritime law.  In May of this year, the eight-nation Arctic Council signed an agreement on co-ordination in the conducting of search and rescue missions in the Arctic. The agreement signed by Russia, Canada, Norway, Sweden, Finland, Denmark and Iceland could become a template for further pacts on work and life in the region.