Competitors question Navalny's fundraising campaign, allege foreign ties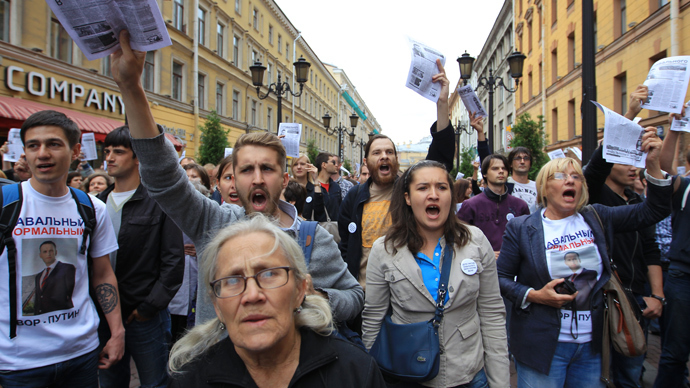 The parliamentary majority and opposition want to launch a probe into the funding of Aleksey Navalny's mayoral campaign, claiming that internet fundraising could be a sign of foreign sponsorship.
The idea was first voiced by Vladimir Zhirinovsky – the head of the moderate nationalist parliamentary party LDPR that also has a candidate in the Moscow Mayor election. Zhirinovsky said he intended to file a request with the Prosecutor General's Office to find out who is sending  money for the mayoral campaign of Aleksey Navalny. The independent mayoral candidate is known for his aggressive stance and relentless criticism of the authorities.
Despite not being new to Russian politics, Navalny has become really popular relatively recently after starting a blog in which he accused top Russian officials and heads of state-owned corporations of corruption and political manipulation. He also has launched a dedicated anti-corruption project in which trained lawyers were looking for signs of corruption in government tenders, and organized its funding through internet donations. The scheme reportedly paid off, and Navalny used it again this year for getting the funding for his mayoral campaign.
After Navalny publicly announced he had managed to attract 20 million roubles (over $600,000) through internet schemes Zhirinovsky reminded the public that according to Russian law a private person can donate not more than 1 million roubles to one political campaign and legal entities cannot donate more than 6 million. The LDPR leader then alleged that by using internet transfers Navalny sought to bypass the restrictions and hide his real sponsors.
One of the leaders of the parliamentary majority party United Russia and deputy speaker of the Lower House Sergey Neverov has supported Zhirinovsky's initiative saying that there were "serious grounds" for the complaint. Neverov explained that while Russian law demanded that all mayoral candidates provided detailed reports about the sources of their funding, the internet donations were anonymous and could be made by anyone, including foreign persons and organizations. "Money can arrive anonymously to an online account and then get distributed between special people who make donations in their own name. But the original source of the funds remains hidden," Neverov suggested.
Aleksey Navalny replied to the accusations by a blog post claiming that his team managed to collect not 20 but 30 million roubles and promising to provide detailed statistics with a regional breakdown in the near future.
The latest electoral ratings provided by the VTSIOM polling service put the incumbent mayor and United Russia member Sergey Sobyanin on top with 55 percent. Navalny is second with 9 percent followed by Ivan Melnikov of the Communist Party with 4 percent and Sergey Mitrokhin of the liberal party Yabloko with 3 percent. Candidates of the LDPR and the center-left party Fair Russia can claim only 1 percent.
However, when researchers suggested a slightly different question – "do you admit the possibility that you could vote for some candidate?" – the balance shifted radically. Sobyanin was still on top with 71 percent of potential supporters, the Yabloco candidate could claim 31percent, the Communist candidate was third with 28 percent and Navalny was only fourth with 25 percent of potential votes.
The same poll showed that 86 percent of Moscow voters expect Sobyanin to win the election.
The Moscow Mayor election will take place on the next single all-Russia voting day  - September 8.