"Russia opposed to NATO's eastward enlargement" – envoy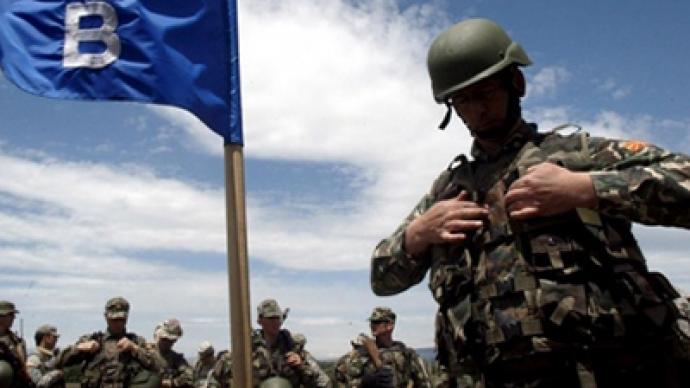 Moscow does not want "someone else's military infrastructure to approach our borders," Russia's Ambassador to NATO Dmitry Rogozin has said.
Moscow is "categorically opposed" to NATO's further enlargement to the east, he told Euronews television on Wednesday. The envoy stressed that not only Moscow is against Ukraine's and Georgia's entry into NATO, but Kiev itself was not going to join the military bloc.As for Georgia's possible membership of NATO, that prospect was scuttled by the aggression against South Ossetia in 2008, the envoy said. He noted that "NATO provoked Georgia's totally insane steps" in relation to Abkhazia and South Ossetia, Interfax reported. "Serious people in the West realize perfectly well that Georgia and Ukraine are farther from NATO today than they were three years ago," Rogozin said. Meanwhile, Moscow and the alliance are preparing for the forthcoming Russia-NATO summit due to be held in Lisbon on November 19-20. The ambassadors of the bloc's member states and Russia's envoy "have negotiated the main draft documents," Rogozin said on his Twitter page. "If no one breaks it, the summit will likely be productive," he noted. According to the envoy, Moscow and NATO have an understanding on the fight against terrorism and piracy at sea, and the Afghanistan issue. But disagreements still exist on the nonproliferation of weapons of mass destruction and missile technology.US Ambassador to NATO Ivo Daalder, in his turn, described the forthcoming meeting of the NATO-Russia Council as good opportunity "to complete the resetting of relations" between Moscow and the alliance. It will be the first Russia-NATO summit, which will be attended by the Russian and US Presidents Dmitry Medvedev and Barack Obama, Daalder told reporters on Wednesday. Washington, in particular, is interested in a new agreement between NATO and Russia which would allow the alliance to transport more freight through Russian territory, the envoy said. A trust fund for a helicopter maintenance program in Afghanistan may be also created.
Sergey Borisov, RT
You can share this story on social media: