Confident in strategic deterrence, Medvedev promotes European security treaty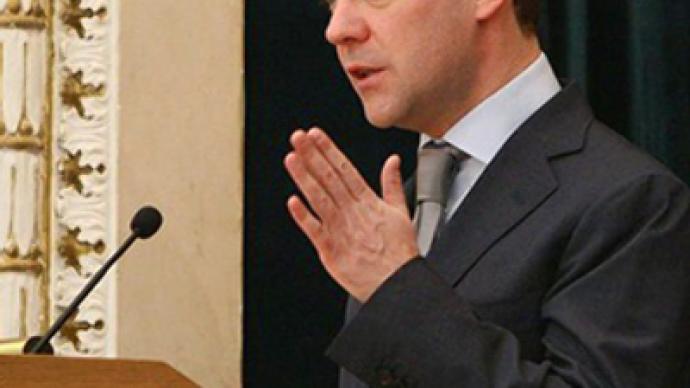 Russia is not planning to build up its nuclear potential further, President Dmitry Medvedev announced Friday, while promoting his plan for a common European security treaty.
The Russian leader met with the Defense Ministry board to discuss a wide range of state security issues and outline the ongoing military reform, as well as to evaluate what has already been done.
"There is no need for us today to further increase the potential of strategic deterrence," he said. However, the Russian president added, "possessing nuclear weapon is a crucial condition for Russia's pursuing its independent policy which is aimed at preserving its sovereignty".
According to Medvedev, this policy "is aimed at maintaining peace, controlling and preventing any armed conflict and contributing to the settlement of post-conflict situations."
The president also made reference to Russia's new military doctrine that was approved last month. According to the draft document, the state reserves the right to use nuclear weapons in response to the use of any types of weapons of mass destruction against it or its allies. The president said the doctrine is currently being given lots of attention both in Russia and abroad.
Another important document in the spotlight is the draft European security treaty, which Medvedev has been advocating since first mentioning the plan during a security conference in Evian, France in June 2008. The draft was sent to leaders of foreign states and heads of international organizations in November last year.
"The reaction to Russia's initiative regarding European security treaty largely acts as a barometer of our relations with the U.S. and NATO," Medvedev said Friday. A lot will depend on the readiness of Russia's partners to legally confirm in a legally binding manner their commitment "to the principle of indivisibility of security in the Euro-Atlantic region".
According to the president, the initiative is being discussed very actively.

Medvedev said he is confident the Russia-proposed treaty "offers exactly the kind of format that could help prevent regional conflicts, primarily on the European continent, including those similar to the conflict between Georgia and South Ossetia."
Medvedev referred to the five-day war in August 2008 that followed Georgia's attack on the South Ossetian capital Tskhinval.
"Unfortunately, not all countries and governments have learned a lesson from [those] events," Medvedev said. "Georgia's military potential has continued to be restored with military support from abroad," he added.
It is important to keep in mind, the Russian president stressed, "that conflict potential still exists and there are still unresolved problems near our borders," which poses potential threat to the country's security.
Read also: Does NATO really think Russia is that silly?
You can share this story on social media: